Flooring is an important factor of Interiors. A sleek finished flooring is trending these days. A smooth, effortless reflection of the floor adds charm to your home. While selecting flooring there are some things we always keep in mind, it must be colorful/artistic appearance, classy yet traditional, stain proof, durable, smooth and attractive. There are a lot of design so you can find the one which suits you best. The best part about flooring is they available in all budgets and have numerous color options. The pleasing floor artwork includes options like hand painted wooden flooring, colorful tiles, porcelain or a combination of color and art.
Serene Flooring are captivating, you can look up for.  Flooring will reflect your persona. Traditional flooring like French colonial style, American Hardwood flooring, Vinyl Flooring, Stone flooring, Carpet flooring, tile flooring and a lot more. You cannot overlook the designs, texture, color, pattern while choosing your flooring. One thing is for sure that the flooring adds uniqueness and perfect finish to your home or office.
Image source: www.inspirationsdrape.in
Following splendid Flooring options will tempt your souls
#1 Vinyl Flooring:
The vinyl flooring gives a perfect touch to the kitchen and bathrooms. The love some flooring is available in tiles as well as sheet by service providers. The flooring is simply classy and gives a royal look to your home.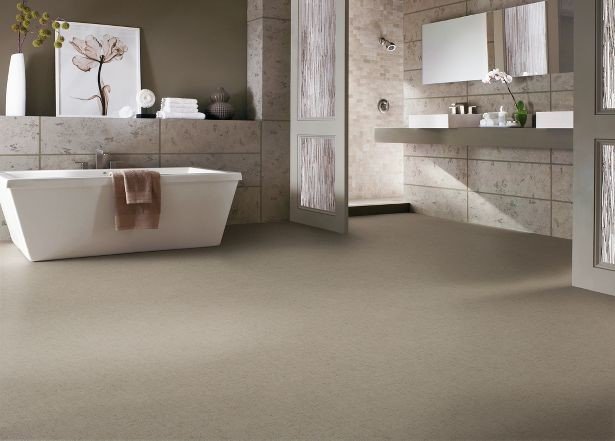 Image source: www.pinterest.com
#2 Natural Stone:
This style of flooring is exquisite and remarkable. The timeless beauty of stone flooring is marvelous. You can look up for options like marble, granite, limestone, onyx. They are very resistant to chemicals, fire or any other dyes. This kind of flooring gives impressive touch to your interior.
Image source: www.riteloom.com
#3 Laminate:
It is a replica of Hardwood or stone flooring. You can simply fit the expensive flooring in your budget when you opt for a laminated floor work. It is durable, dignified and graceful in appearance. It requires low- maintenance costs and it can look like any expensive flooring. Just pick the lamination of wooden floor, stone, vinyl etc.
Image Source: www.houzz.com
#4 Wood Flooring:
It has been in tradition since history. In all cultures wood flooring has always been a favorite option. The flooring of real wood is magnificent and superior is quality. It gives a new dimension to interiors when compared to others.
Image Source: www.honestfreds.com
#5 Tile:
The adorable tile work in flooring fits for vibrant offices, kid's room or your main hall. The tiles of Ceramic, Porcelain, Stone and Glass makes the tile work an imperial artwork. There are stately beauteous tiles available in market nowadays.
Image Source: www.decoist.com
Image Source: www.archiproducts.com
#6 Carpet:
The carpet trend of flooring includes fibers of Nylon, smart strand, wool carpeting to make your flooring fit your style. These are stain proof and illustrate a grandiose look.
Image Source: hickscarpetone.com
#7 Engineered Wood:
It is similar to a hardwood floor but comprises of a center of hardwood, plywood as well as fiber. Five or more materials are pressed under high pressure to combine the layers uniformly. They are glued tightly to avoid any humidity issues in the flooring. Thus you get a perfectly durable, resistant and temperature proof flooring. It is majorly opted in kitchen, basement.
Image Source: Smith and Fong Flooring