While doing Interiors for their home, todays parents are equally curious to create a fabulous interior for their kids. Interior Designers are getting inquiries regarding kids' room more than before. As there are limited availability of safe public places and social interactions in urban areas, parents want to create kids own world inside their home so that they can entertain themselves and remain occupied. So How to design a Beautiful kids Room? Here we share few useful tips, have a look.
Kids Loft Bunk Bed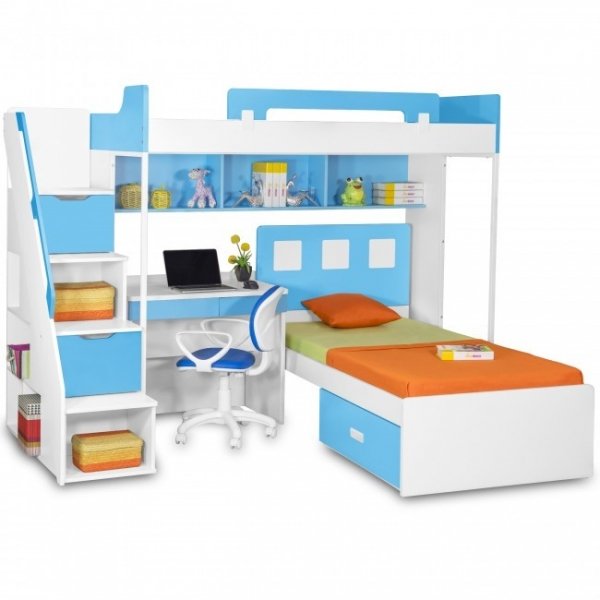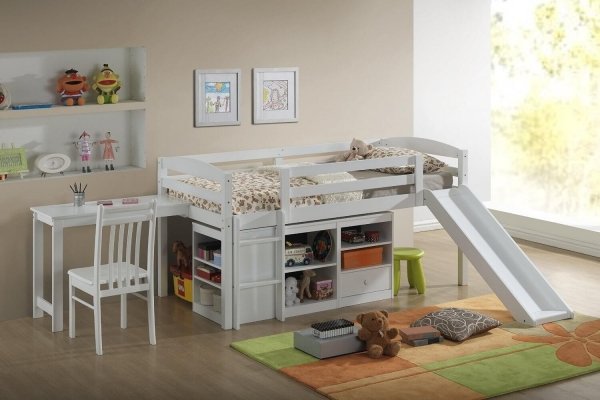 Loft Beds are the first thing when we think about Kids Room. Lower level can be a simple Bed or combination of Bed, study tables and bookshelves, while upper level usually used for playing. In the case there are two kids of the same age. Bunk bed keep them separate while sharing one room to reduce the chances of fighting. Loft beds are great space saving furniture too. There are lots of interesting designs available in the market, from where you can make selection as per your requirement.
Car bed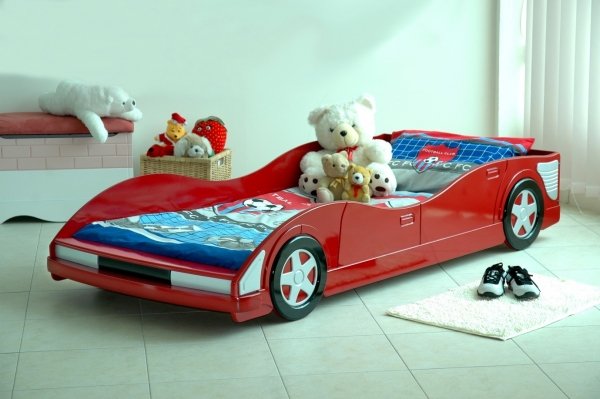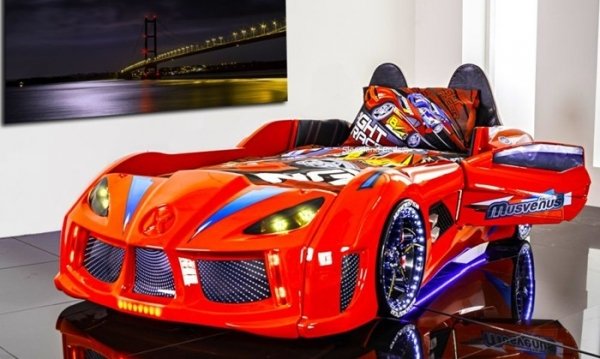 While Loft Bed are usually choice of Girl child, Boys do prefer for Car beds. There are two different options available. one is usually a typical Bed especially made in Car shape, while the more advanced version actually imitates the racing car with all lights, wheels and openable door. So, depending upon your budget, you can make a choice.
In the case, you still can't decide between Loft bed and Car Bed, No worry, Who stop you to try a combination of both. The only catch is this option may not available in the market for ready buying and can only be tailor made as per order.
Designer Furniture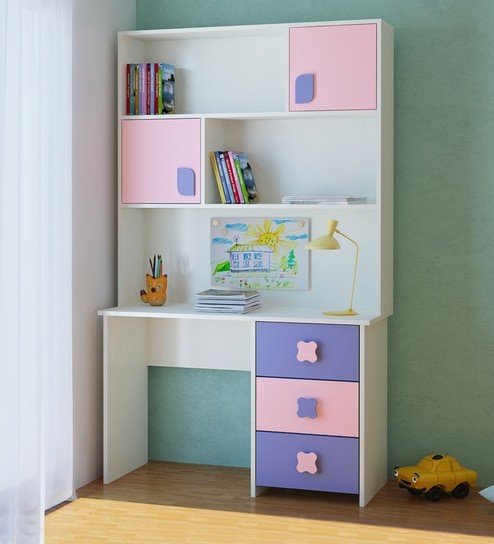 What make kids room visually different from others room? Use of pastel coloured furniture with playful looks mostly in matt finish. Use of soft materials, with round sharp edges to minimize chances of injury. Book shelves and storage units in combination of colours with designer handles. There are plenty of ready to install designer furniture options available in the market, which you can choose, though any customization may hard to come.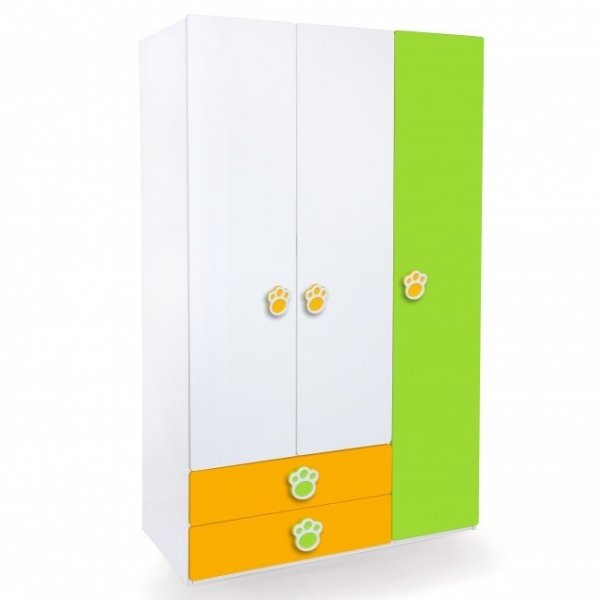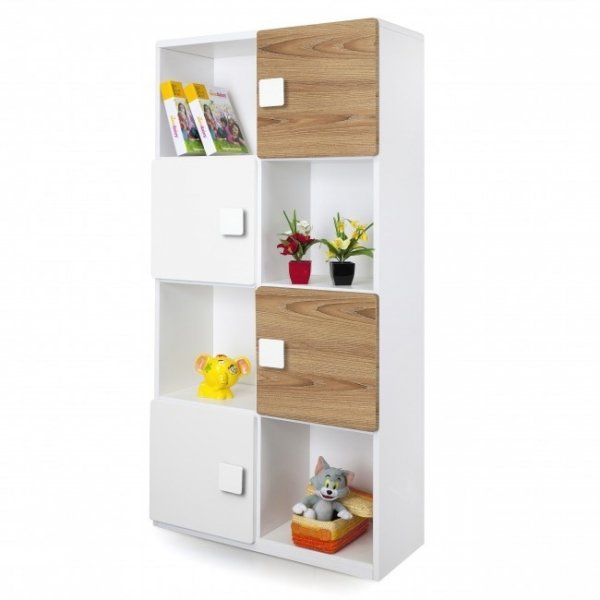 Designer Ceiling
Designer ceilings made of PoP or Gypboard in the shape of clouds with lighting effects are instant choice for kids room. You can also go for wallpaper with sky scenes or select your own theme and go for customized printable wallpaper.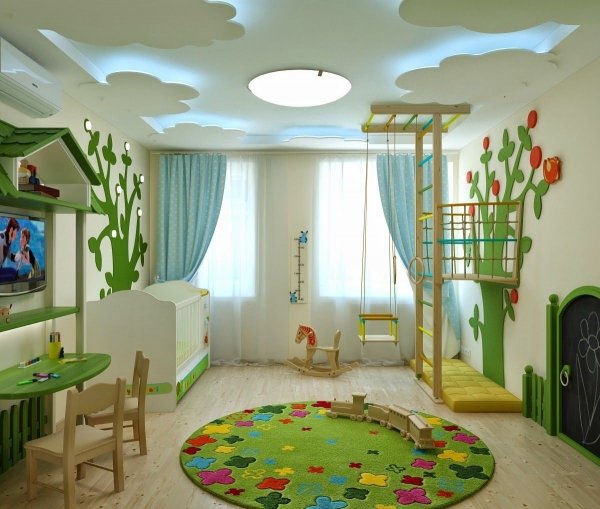 Stretch Ceiling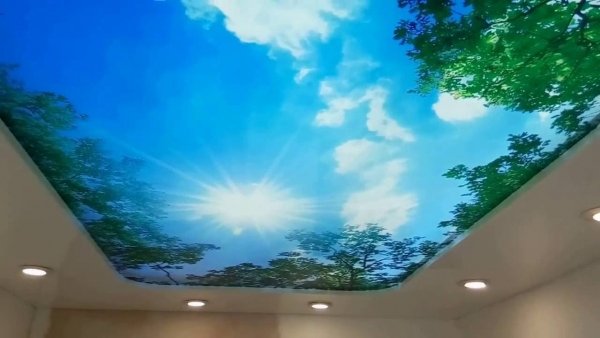 Stretch ceiling are another option available in the market, though its new product so come with premium price tag. These ceiling made of PVC type fabric fixed through clamp to wall. LED lights to be installed directly on ceiling to give overall uniform ambience without any glares. These ceiling are long lasting and maintenance free.
ChalkBoard Wall
What is better than to find a place on wall and install a chalkboard wall for your kid to unleash his creativity. By giving him a place to mess, he may return you favour by not spoiling other walls in your home. So a little efforts and investment on this chalkboard piece can save your walls from annual painting expenditure.
Rock Climber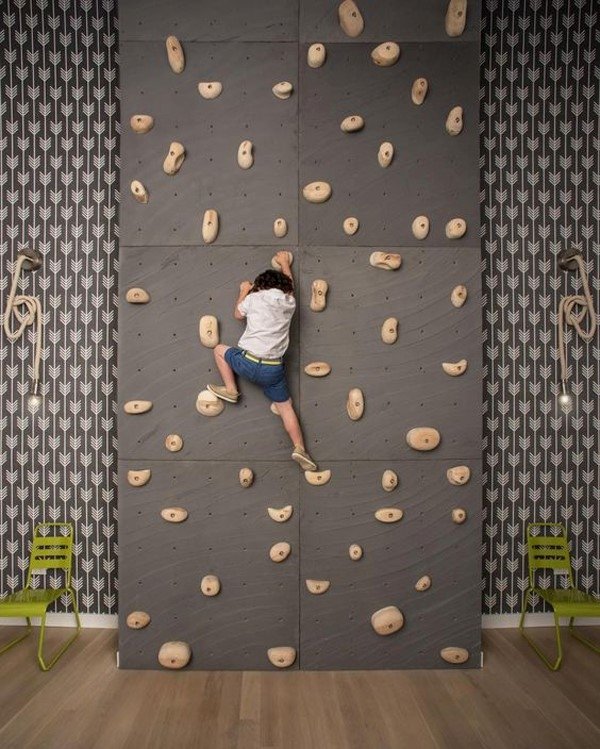 Inspire your kids to do some physical activity by providing him some kind of mini indoor activity tools. Rock climbers can be installed on walls and they don't consume mush of floor area. There are other ready to install setup also available in the market with mix of activities like rope climbing, ladders and bar. Depending upon the size and arrangement of room, you can select any one of the options.
Wall Stickers
Printed Wall stickers with readymade designs are the most easiest choice to instantly change the look of kids rooms. They are easy to order and come with self-adhesive feature. You can directly glue it to any uniform wall surface with little care.
Wall Paper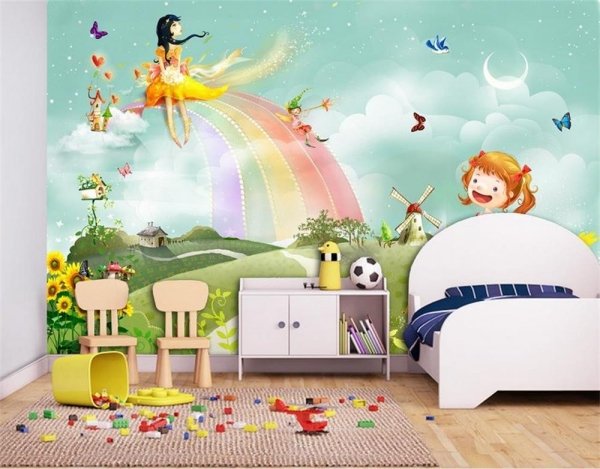 Make sure to keep one wall in kids room as a feature wall where wallpaper can be installed from end to end. You can select wallpapers on different concepts such as worldmap, fairyworld, jungle safari or your kids favourite sport.
Hope now you must have a good idea about How to design a Beautiful Kids Room? With little planning, you can do it yourselves or contact a Good interior designer to design it for your kids.