Various shades of red and green complement the modern interior design schemes. Though use Green and Red in combination is surely not a regular choice, as both these colours are contrast in nature. While Green relates to nature hence having relaxing effect on our mood, in contrast Red excite our mood and senses. In general, we rarely found these two shades being used extensively in interiors. However, in using humble tones used by these interior palettes, the red and green combination is one that mixes and flows, and is appealing. Let us see – How to use Red and Green in Interiors in a simple way?
More of white and grey areas keep the colour story looking current and airy, along with modern furniture and on latest materials. Although a final touch up of the look can be seen with fluorescent red accents with other shades of blue, yellow and warm colours that divert attention away sometimes from the focal canvas.
Style #1
A fine example to use Green and Red in combination can be seen in above pic where A cherry red colored modern sofa complements light green colored walls. Use of glass table top and brown colored curtains enhance the interior view. The mid-heighten lamp in the corner peeps out as a symbol of majesty in the living room.
Style #2
The bedroom area is painted a deep lime green to define it and to achieve a feeling of intimacy within the open plan. Use of white and red colored bed linens accompanies the interior area. White colored open cabinet with red colored flower pot steals the view.
Style #3
In contrast to previous example, here the prominent colour used on walls is Red, why? Can you spot the difference? The type of enclosure should dictate the primary shade since Green is relaxing in nature hence it is recommended to be used in Bedroom while Red signify warmness and activity hence a good choice for place like in Living Room. Here the solid red coloured walls along with shaded red and off-white colour curtains suits the dining area. Equipped with green coloured trendy furniture and round dining table is an add-on to the view.
Style#4
Strawberry red coloured modular furniture in the L shaped kitchen is looking perfect with glossy finish. Black coloured units are an adjunct. The lime green coloured wall for chimney and shelves gives its best look. White finishes highlights the area. Some may have reservation about dark black cabinet but the combination of Green and Red in conjunction with white is absolutely eye catching.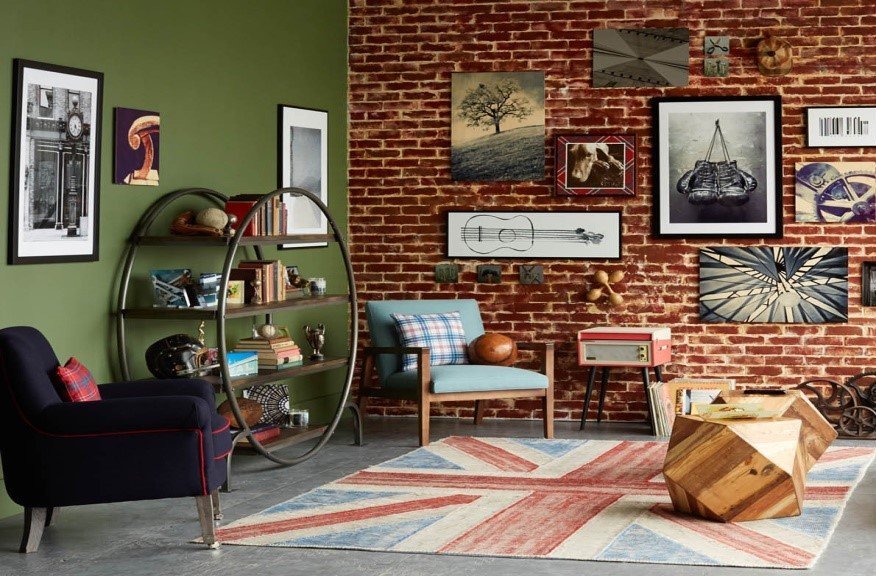 Style#5
The equal balance of red and green is sustained in the study room. The wall paintings amount to a feeling of exposure and creativity. Blue coloured single sofa sets brings in flash against the muted sage backdrop.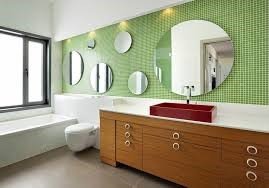 Style#6
The bright green coloured tiles accented with wooden vanity and brass handles and matching frames gives a finished look. The cherry red washbasin gives washroom a bold look. The frameless round mirror is fit to the wall from edge to edge to increase the sense of space and light.