Bringing Nature closure is the latest trend now a days in Interior and Architecture projects. Stone wall cladding are the easiest when it comes to give walls natural look whether it is indoor or outdoor. Here we give you few interesting ideas on Wall Cladding Ideas to give wall Natural looks.
Stone cladding
There are lots of options available today. We can use real stone tiles, sandstone tiles, brick tiles or even ceramic tiles with stone looks. Available in tons of variety of colours, textures and materials, stone cladding options are great way to add elegance and contracting look to your interiors or exteriors.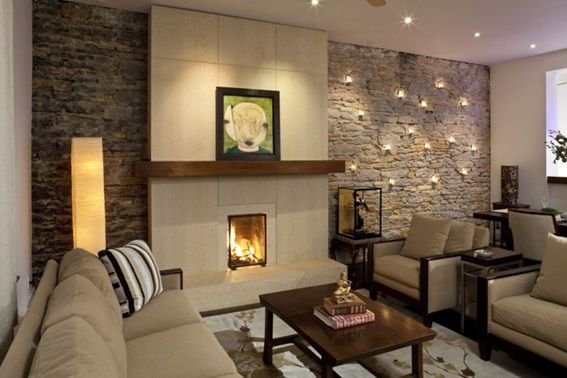 While using these cladding for indoor or mainly outdoors walls, you can also explore cladding tiles which come with thermal insulation properties. This way you can add thermal resistance to your indoor atmosphere. In colder regions it will prevent indoor warm air to transfer heat outside and in hot arid regions it will insulate the indoor environment from the heat outside. So there will be two way bonanza of using cladding tiles on wall in terms of both adding textures and providing insulation against outside atmosphere.
Rustic touch
In Interiors, wall cladding are mainly used in living room feature walls or foyer areas. As evident in below image, the exposed brick wall adds a rustic element against otherwise sophisticated walls, floors and furnishing. We can also use mood lighting to accentuate the effect of textures and create shadows.
Beauty in asymmetry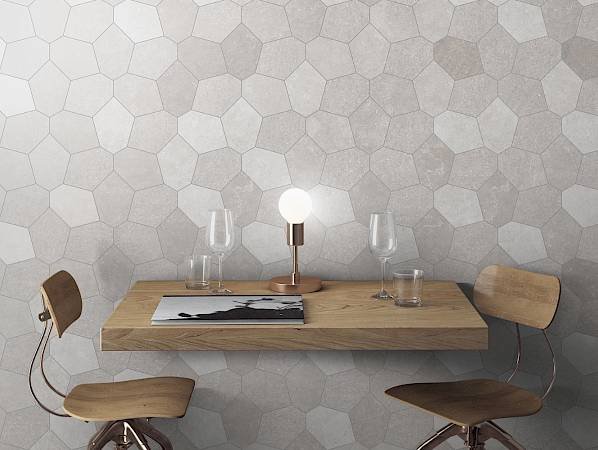 In interiors, we generally play in terms of symmetry and orderly arrangement but sometime it feels like to upstage balance little bit and add some element of disorder though only visually. What is the better way to do this by using cladding of tiles of different shapes and sizes? Actually, we don't need to bother about really finding tiles of different sizes and shapes, there are designer tiles available in market today, which come in bigger tile format made by using small different shaped pieces of tiles. These tiles gritty, unfinished and uneven surface provide beautiful contrast to otherwise smooth, finished surrounding all around.
Enchanting outdoors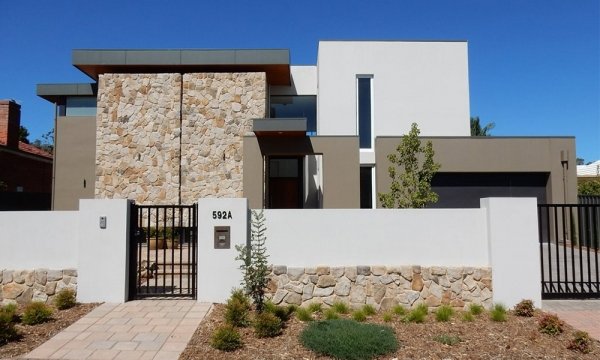 This Tuscan-inspired stone wall cladding idea is a beautiful way of applying natural textures to modern structures. In older times, especially in hilly regions, irregular shaped stone boulders used for constructing strong supporting outer wall. The same looks are available today with stone veneers tiles. These tiles are excellent option for Indian homes as it absorbs heat and hence minimize the load on air conditioners. They are must to be used in the garden in the form of dry-stacked boundary wall, thus making for a beautiful vignette.
Black beauty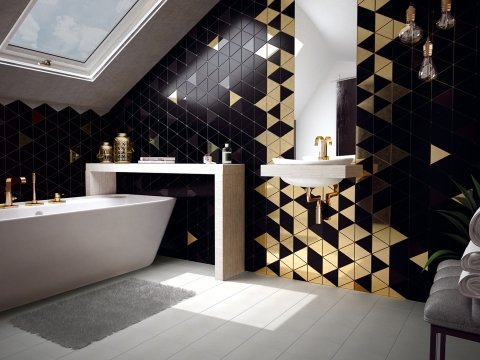 This black stone wall cladding is a versatile, timeless addition to walls whether it is Bedroom or Bathroom, as it can be paired with a variety of color schemes. The stone cuts are not too prominent and bring in just the right amount of texture to the sleek space. These tiles are mostly used to give any space a premium sophisticated look and hence to be exclusively used only.
Beautiful illusion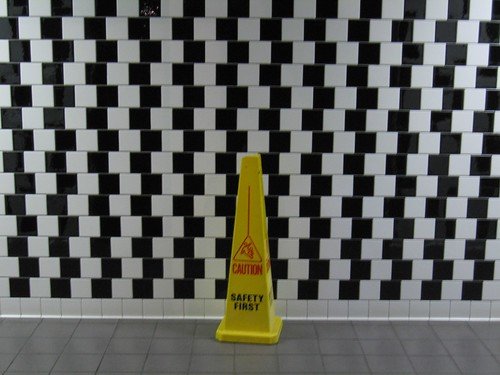 With an interesting interplay of shadow and depth, this stone wall cladding steals the limelight. These tiles are used to add dramatic unusual effect in any particular indoor environment.
Serenity in white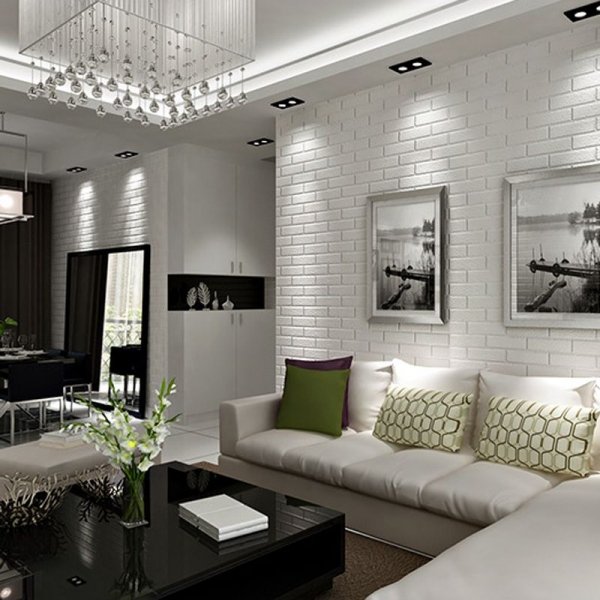 With bricks and grout of the same color, this powder white stone wall cladding casts an expansive effect in the living room. These tiles add lights in interiors and hence to be used otherwise dimly lighted areas. Caution to be taken as white tiles can also produce glare so avoid shiny tiles and in fact use tiles with textures.
Terracotta Tiles
In comparison to stone tiles, Terracotta tiles add natural look with natural colours as well. These tiles look simple yet elegant and offer more polished looks.
Geometrical Patterned Ceramic Tiles
3D tiles with geometrical patterns are in trends now a days. Though in comparison to residential Home Interiors, these tiles are being preferred more in commercial interiors. There are a lot of shape and patterns available in the market. We can also achieve the same look with other materials too.
Red Bricks Wall cladding Tiles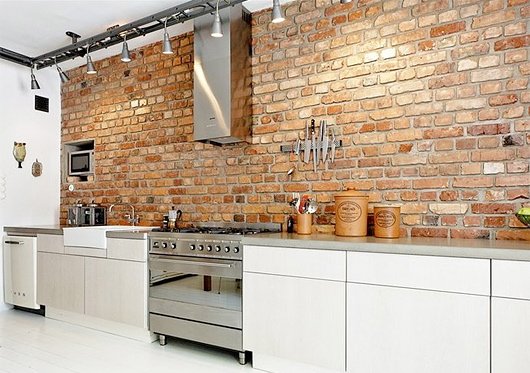 If you want to go more unconventional, try for red brick tiles in contrast to finished look all around. There are thin real brick tiles available in the market. The slight downfall with these tiles is that gaps in between bricks can accumulate dust over time so better to use in the case of closed conditioned environment.