Innovations in last decade especially in the field of Interior design contributed tremendously gave rise to the concept of modern workplaces. Startup culture, Co works offices completely overhauled the traditional typical Office environment and setup. Even in not so older times, Creativity and elegance was just to be limited to Reception areas and private cabins of directors, while workplaces continue to remain same with mostly linear arrangement of workstations, file cabinets and wires all around. Office were meant to be place for work, nothing less, nothing more, with a complete lack of creativity and minimum consideration of employee's comfort and well being. So Modern Office Interior Design Trends to create Fantastic workplaces.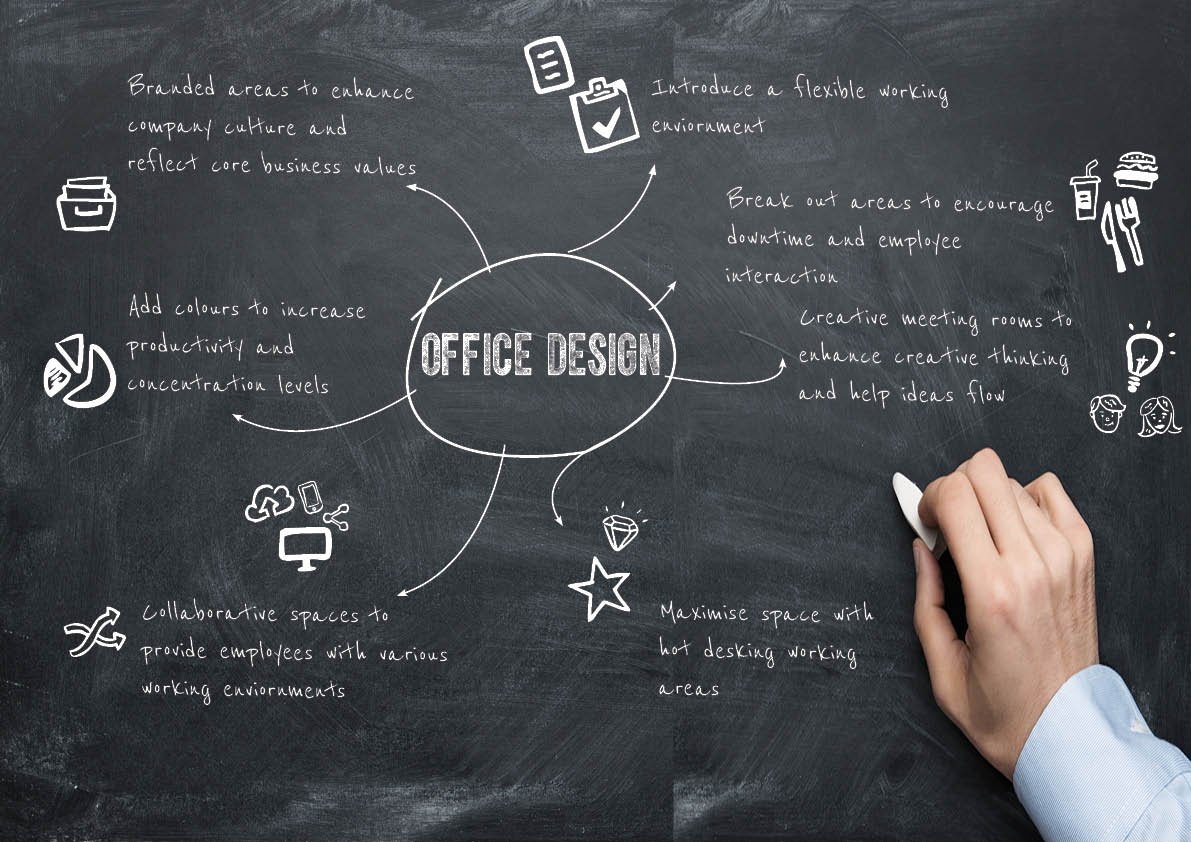 With the Startup boom, evolution of IT sector and cowork spaces, things have started to change. Long working hours, high cost as well as high attrition rate of employees put focus upon office environment, as a result, modern workplaces also changed rapidly. As demand for innovation in Office Interiors grows, a new breed of office interior designers also come into picture who specialized in creating awesome office interiors all around the world.
In a nutshell, Modern office designs are not only more comfortable but more vibrant, colourful and welcoming places. Let us discuss in below, what are Modern Office Interior Design Trends to create Fantastic workplaces.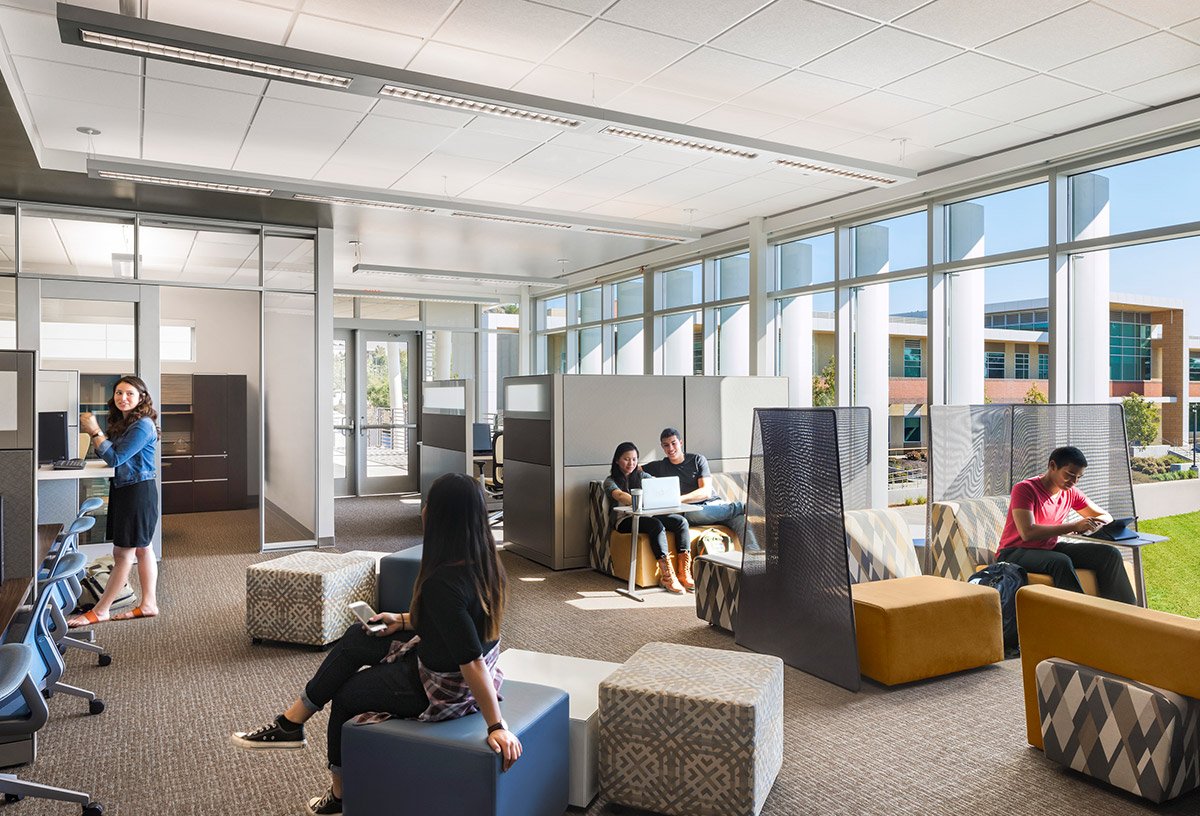 #1 Flexible Functional Spaces
Modern offices are flexible when it comes to physical divisions across various office functions and departments. Mostly there are no visual boundaries, various spaces are intermixed with one another. Modern modular furniture is easy to disintegrate and reassembled as per requirement. In large technology-based offices, works are mostly done on notebooks and saved on clouds. Internet connectivity runs through Wi fi enabled for freedom to choose place of work, be it a workstation, lounge chair or café. Peoples can either work in collective sitting or in isolation, so modern offices are combination of different seating, workplaces and activity-based areas.
#2 Innovative Adjustable Furniture
Innovative furniture gives people choice to select appropriate way of working as per their own choice. These can be of various types, there are freestanding media units for quick casual assembling, acoustic pods for more semi private small meeting spaces or meeting desk to accommodate large number of peoples. Workstations also coming in self-adjustable configuration as per one's own comfort. Since all furniture is equipped with data sockets, power outlets and task lighting, it gives high flexibility in operation and provide for easy immovability across office floor.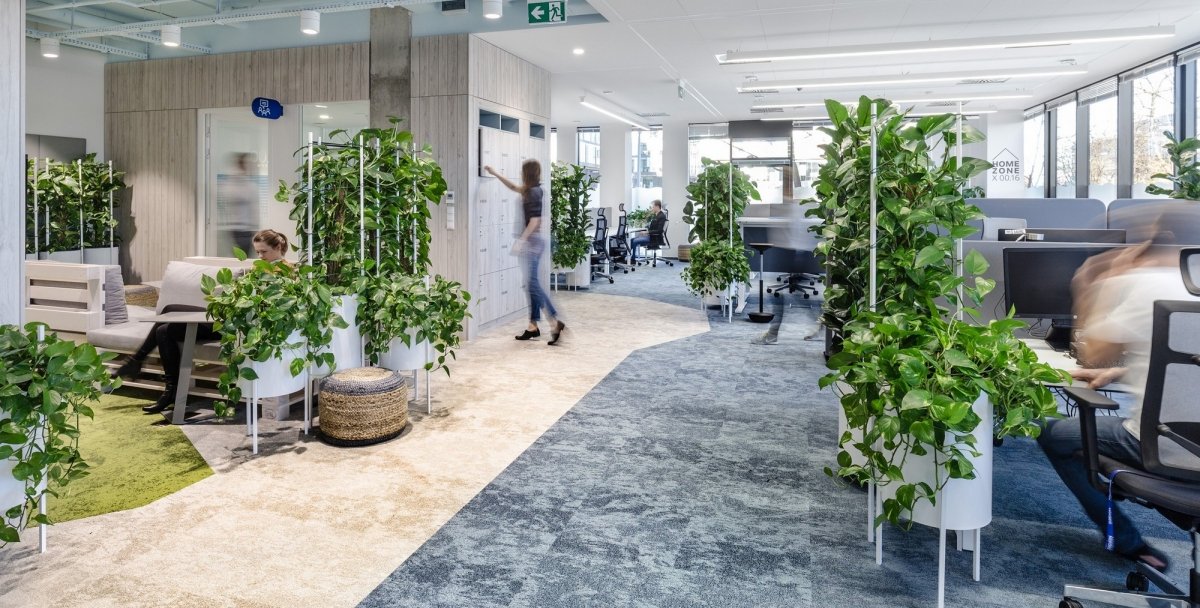 #3 Indoor Green Design
Modern offices are no more supposed to be looked as a man made completely closed environment consist of mechanical ventilation, artificial materials, indoor lighting and equipment. Now a day's, designers are putting emphasis upon bringing outside nature inside. Large windows, glass facades are being used not only to bring more sunlight inside to reduce electricity consumption but also to offer wide horizon view. To improve indoor air quality and well being of employees, use of indoor green walls, plants are being encouraged. Additionally, Artificial Green walls, Grass flooring is also being incorporated in design to end the monotonous environment and make it more vibrant is in trend. In addition, organic colours, textures and patterns, Natural materials are also in trend.
#4 Integration of technology
Automation in building indoor technology offer tremendous opportunities for experiments to improve office environment. Lights can be controlled through apps as per requirement. Sensors can automatically shut down or start equipment and lights depending upon occupancy of any particular enclosure. Integrated sound system to make for important announcement and playing light music all around. Laptop and desktop connected with high speed WIFI all integrated with presentation screens to facilitate for smart wireless working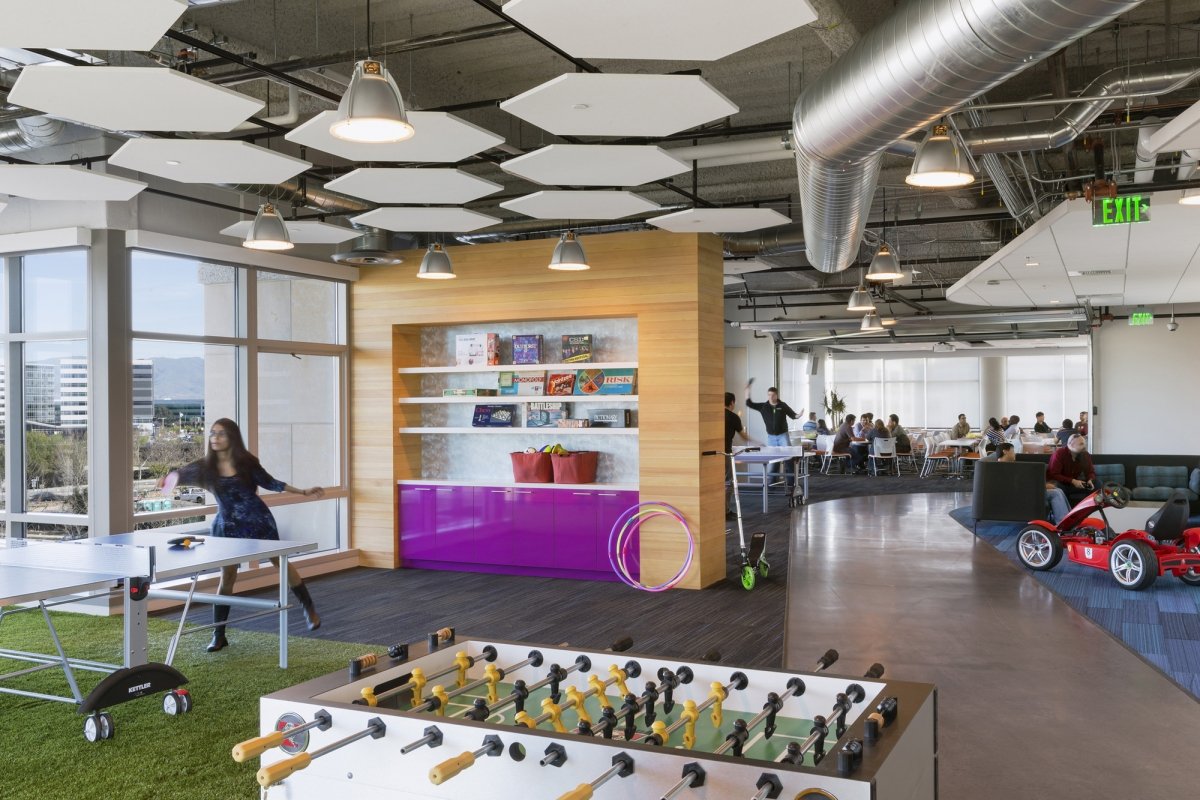 #5 Recreational areas
Now a days, mostly in technology or service-related offices, operational hours are not just limited to conventional eight hours timings. Few organisations even run round the clock 24/7. Working hours are becoming long and flexible. So, to combat fatigue and cheer up the mood of office working staff, designers are incorporating recreational facilities inside office environments. Several facilities like casual sittings, small reading rooms, CCD type cafeterias, Music rooms, sport facilities such as Billiards, Ping pong, Foosball and Carom board are being introduced depending upon space and budget constraints.
Awesome office environments are not only contributing towards employee welfare but also become a tool for enhancing company image. As Office interiors are becoming more and more complex and creative, Employers around the globe are taking help of Top office Interior designers to create great Office Interiors.
Few more Good Articles to read about Office Design