Organizing is always fun, whether you are sorting out storage solutions for your room or simply adding interiors to make your room appear artistic. This blog will help you to realize distinctive book shelves which are stylish and a perfect storage solution. 18 Innovative shelves ideas to decorate your walls. See for few inspirational Innovative wall shelves ideas for modern homes.
Innovative wall shelves ideas for modern homes-
We've compiled a list of splendidly distinctive shelves starting from super-modern selections for classy houses or theme based book shelf interiors to charm the rustic choices for bungalow design homes. Shelves find their utility in offices, living rooms, bedroom, kitchen and bathrooms. In our daily lives we need perfect storing for our basics as well as well preserving space for our valuable showpieces. Check out the list of trendy shelf designs.
 18 Innovative shelves ideas to decorate your walls: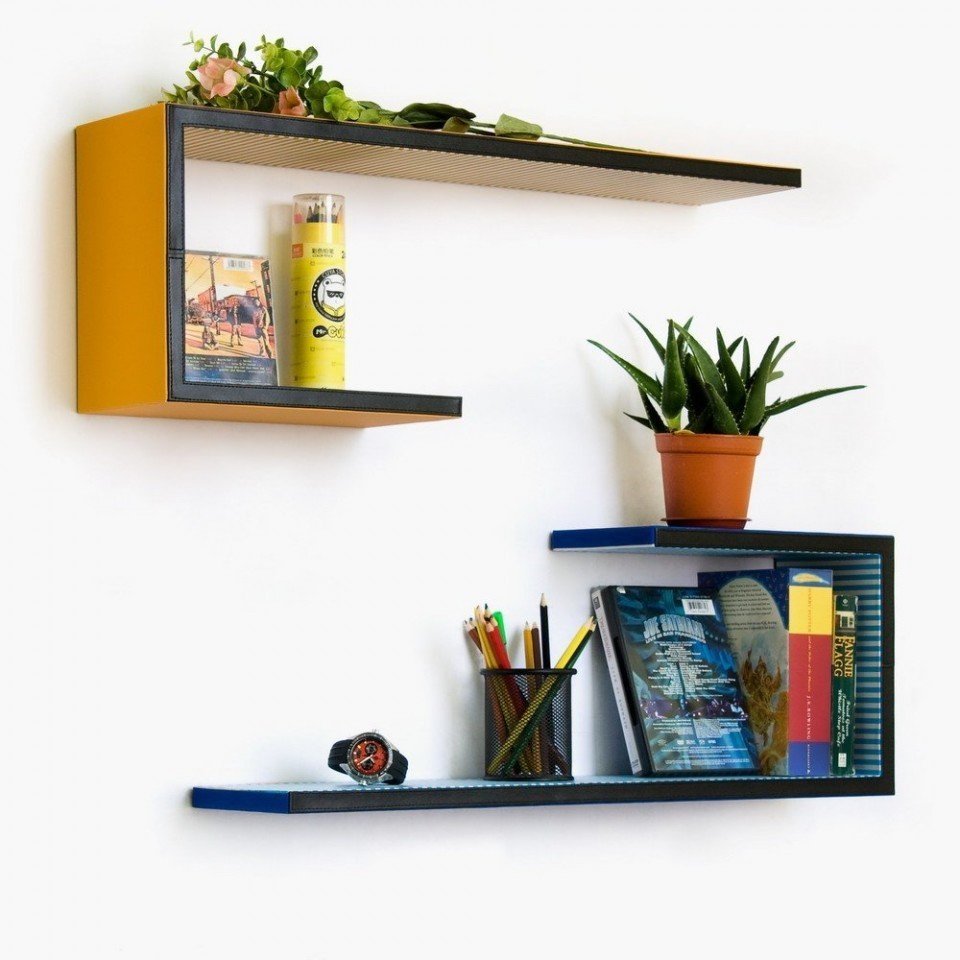 Fishbone Shelf:
This collection is inventive, modular, and versatile. Rotating the shelves is easy and this can change the complete look of the shelf from time to time. The distinctive form embraces books from all angles. These would look perfect in living room.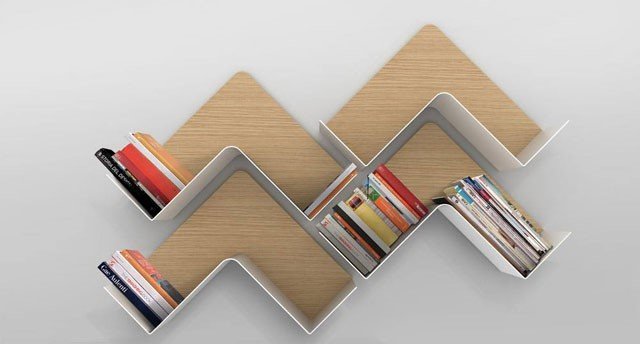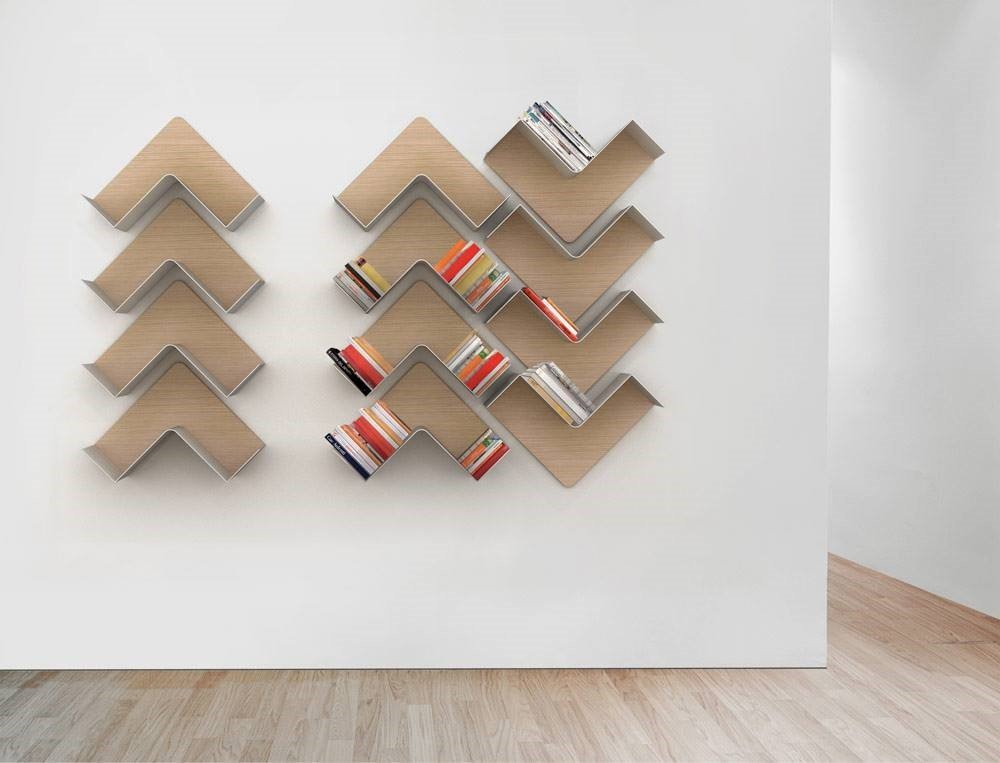 Super Shelf/ Superman Metal Floating Shelf:
You would love one an additional shelf for your comic room. Books hide the shelf base so all you can see is pile of book being pushed by superman cutout magnetically. For a girl's room you can replace the superman cutout by a super woman image. Show off your super power role model in your room.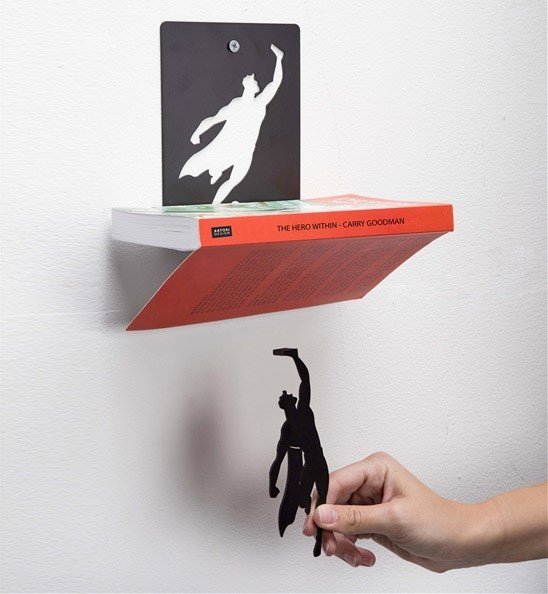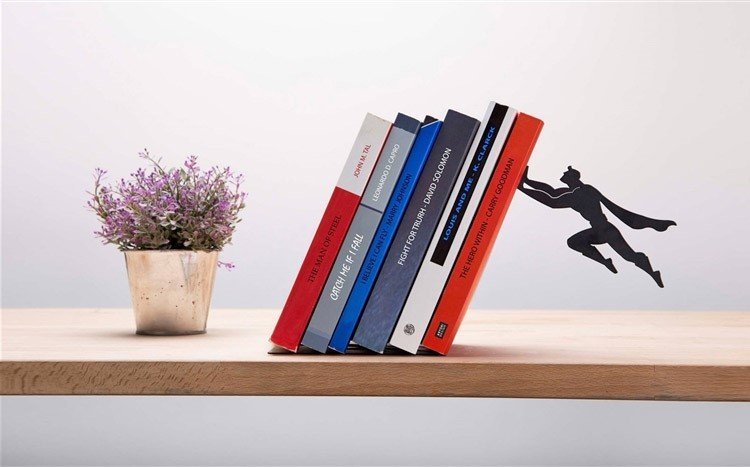 Adjustable Perforated Shelf:
These stylish selves are hanged on the walls combining the industrial influence and the distinctive decorative designs. Adding set of two selves each to this perforated shelf pattern expands the storage space as per the requirement.
Nexera Next Wall Shelf:
The fancy open and closed shelving is a unique idea for the room. The shelf is good for keeping the precious items which don't require much air contact. So hiding out the items from dust of the house these shelves are best to keep things in a dust free zone.
Floating Corner Shelf:
The corner shelves makes the best use of the corners which are mostly ignored and they end up living like a dust zone for the house. Decorating the corners of the house provides a wonderful look to the room and even utilizes most of the space from the room for storage.
Mountain Wall Shelf:
This is often positively an excellent selection for a outhouse or bungalow interior design. Keeping ferns or hanging the art craft done by your kid can be displayed in your bedroom.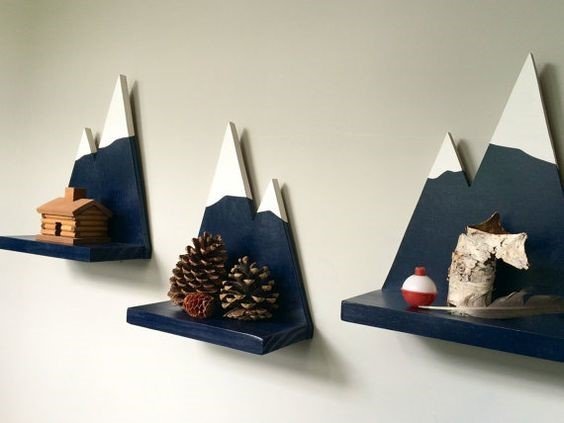 Kids' Wall Shelves:
Have a look at these lovable dip-painted collapsible shelter shelves. They are used to hang the school bags, display soft toys, family picture or art and craft done by your little one.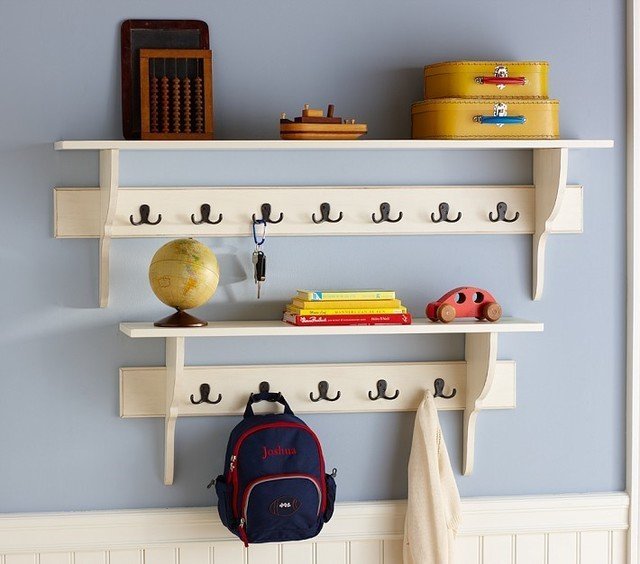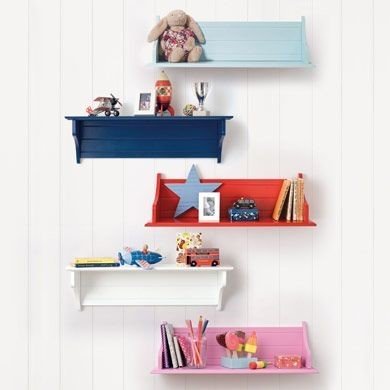 Storyline Bookshelf:
It forms a sort of a heartbeat or a graph which is artistic in itself. This shelf would positively add abstract art in your room. Displaying all sizes of books and book series in ascending order is the best use of such shelves.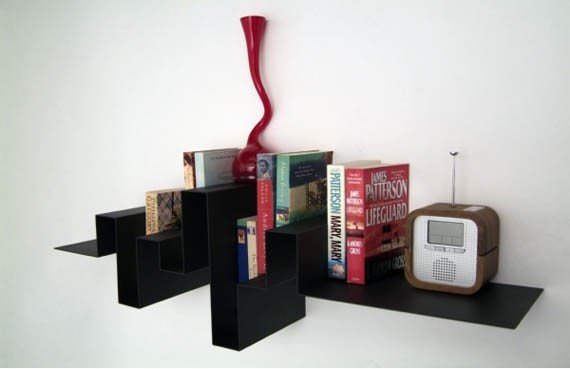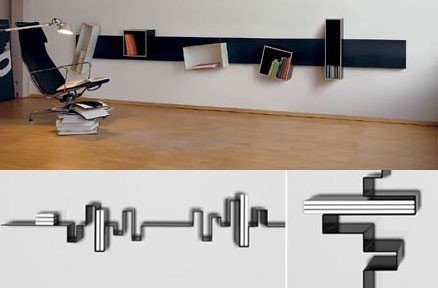 Rustic room Wall Shelf:
These shelves are added in rooms with old and rusty appearance. They create a rough look for the room and suit very well to specially designed room using the rustic themes. They are very durable so heavy eight items can be stored well in such shelves. In the backyard you may use them to keep your machine screws or nut bolt bags. Such shelves can be added in kitchen also to store the utensils and the basic household in a rough and easy manner.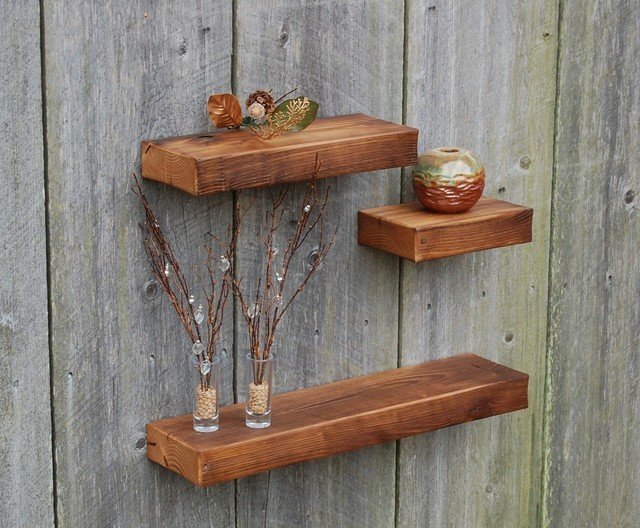 Diamond Cross Planes Shelf:
Interiors designed around geometric patterns are all build up with an attractive appearance. Using the different tiers of the shelf a lot of space is created for hanging little potted plants or books.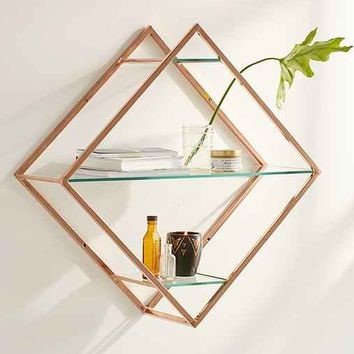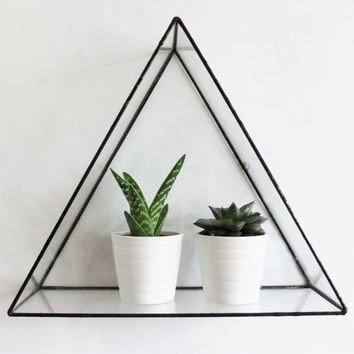 Metal Shelf with Wood Planter:
Planters and shelves continuously build an excellent combination! This clear-cut framed-in shelf adds a pleasant ornamental appearance in the interiors. Keeping the indoor plants on the steps of its shelves give decorative ideas for corners of the room.
Fire Escape Shelf:
If you love to add the industrial theme to your house hang the fire escape shelves in your room. Stacking more shelves over them can make it look like a skyscraper in your room. The fireplace look can be an excellent start to organize your items in the room.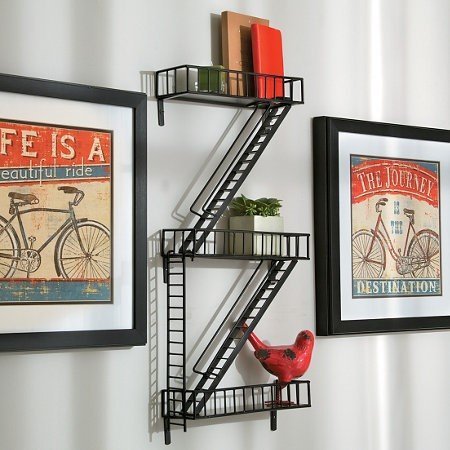 Mountain Peak Shelf:
The Gold accents of the shelf add class to any space. This efficient shelf catches attention from miles away whereas adding a light weighted shelf in smaller areas creates a good golden scenery type view. You may hang favorite pictures of family or stick an important note on these shelves.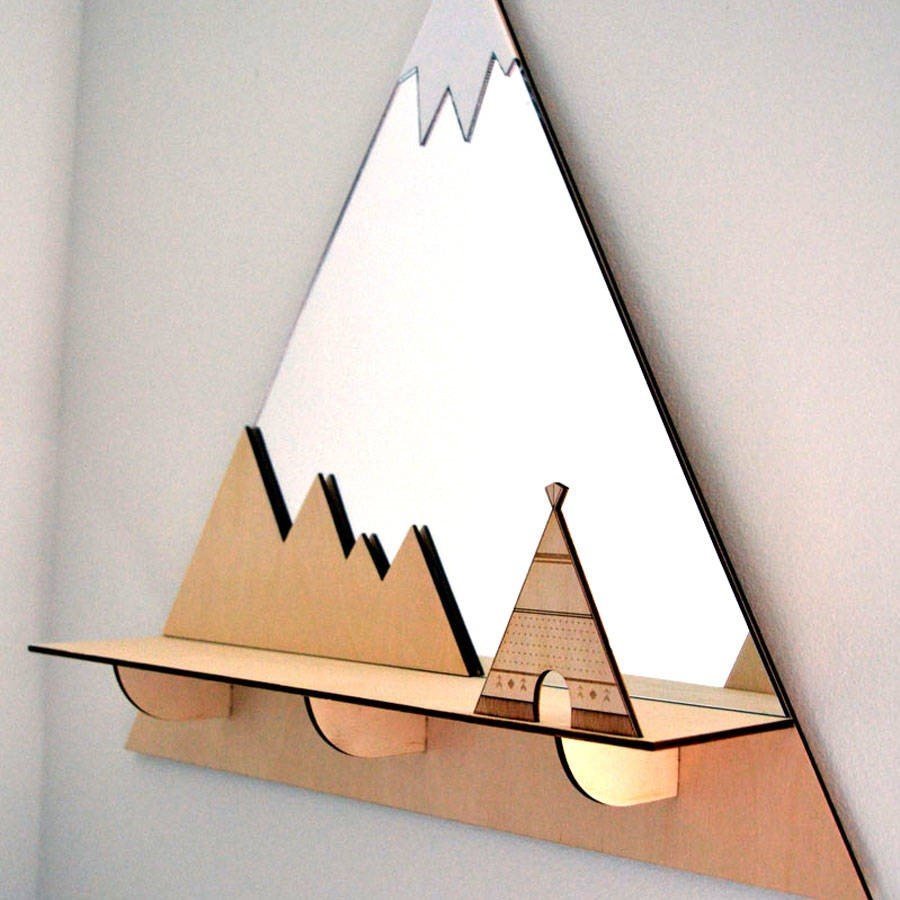 Hexagonal wood Shelves:
This attractive honeycomb looks appropriate for a modest, geometry-themed, or trendy interior. Adding such shelves in a reading room is apt as it has space for a lot of books and they complete the look of the shelf beautifully.
Liked it, You can buy it here  Hexagonal Wall Shelves 
Triangular Floating Shelves:
It is a good way to break off the rigidity of a geometrical decor theme. As this image illustrates, it could be used best by tucking jewelry or ornaments within the Triangle. They also have ample space for flower pots or hot coffee cup.
Modern intersecting Shelves:
They make an impressive look when attached to a wall. The trendy look of such shelves is generated by using colorful intersecting shelves when you are planning for a vibrant theme for your teen. They also suit very well in the living room to design a classy room with wooden furniture and interior all around.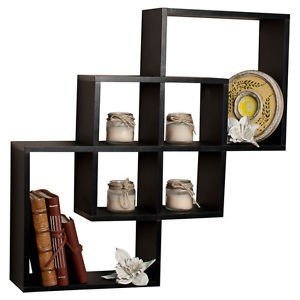 Simple trendy Wall Shelf:
The colorful bunch of trendy shelves adds color and vigor to the soul of the house. They are cute and useful even if a small space is available they make the most out of it by dividing it using its colorful walls. The fact is such durable shelves can be added to any part of the house and carried along when you plan to relocate.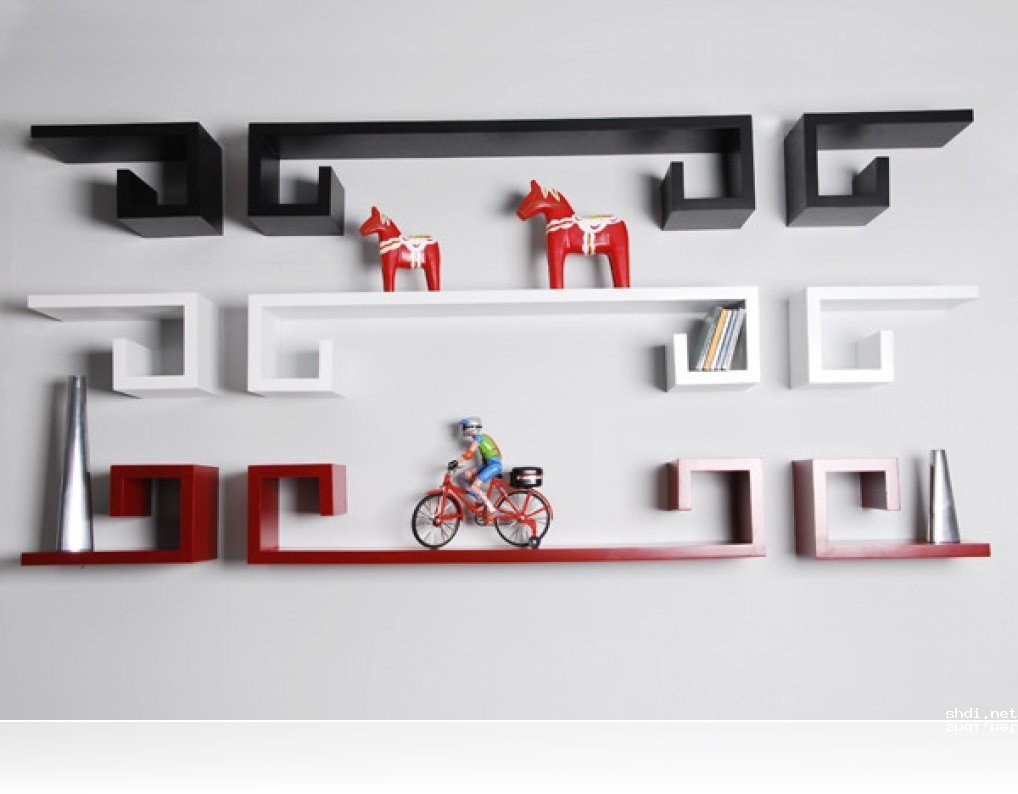 Hope you have enjoyed reading about "18 Innovative shelves ideas to decorate your walls"
Follow these below links to explore more
Few External links