Various components put together make for a good-looking kitchen. While every aspect of kitchen contributes to its appearance, some elements make a bigger impact. Cabinets are one of the most pronounced parts of the kitchen. The way the cabinets have been designed and finished can spell the difference between an average modular kitchen and a great one. A wide range of cabinetry finishes are up for purchase in the market. It is important to choose the one that suits your kitchen's aesthetics the best. Acrylic vs Laminate : How to select best finish for kitchen cabinets
Acrylic and laminate are the two most widely used finishes. But, there are marked differences between the two. Not only do they offer different visual appeal, they are also priced differently. Choosing the right cabinetry finish could be a little confusing. Therefore, we have elaborated both these finishes so that you can make a more informed choice.
Acrylic vs Laminate : How to select best finish for kitchen cabinets
Understanding Acrylic finish
The glossy looking cabinets we see in a lot of kitchens are usually made of Acrylic material. Acrylic looks much like lacquer and is extensively used as the cabinetry finish worldwide. Acrylic lends your kitchen an elegant appearance. This reflective material is available in plenty of colours to complement all types of kitchens.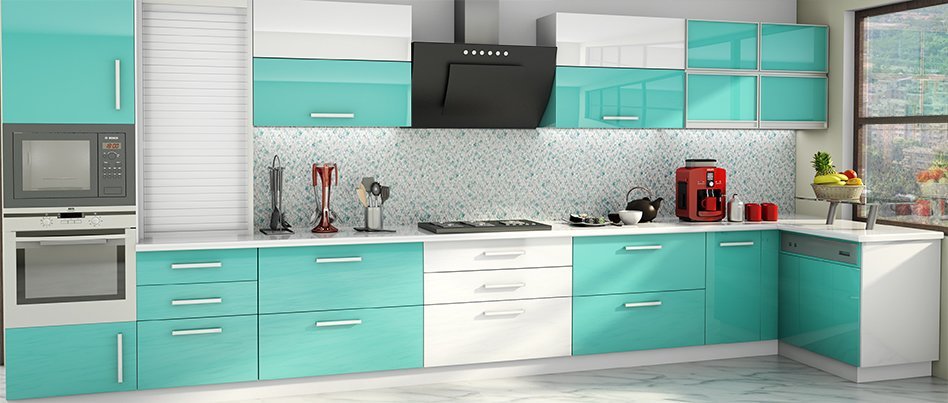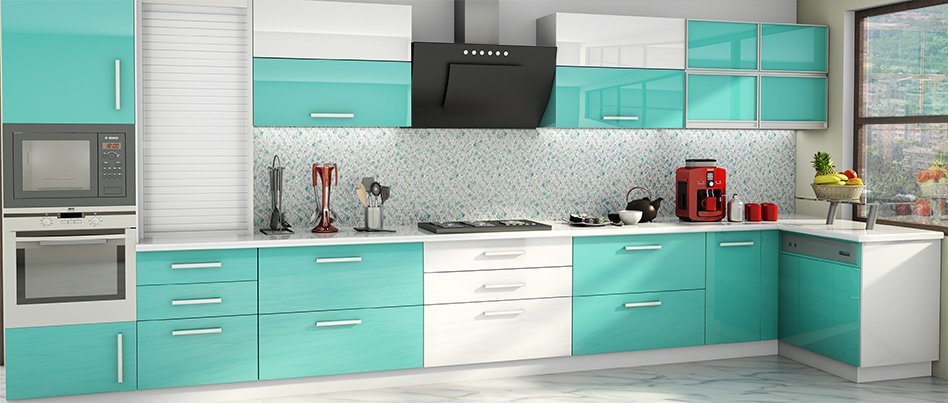 Laminate finish
Laminate is also a very popular finishing material for kitchen cabinets. This is multi layered material, artificially made using the resins and papers. The top layer is printed with the desired colours and patterns and becomes the front of the cabinet. Laminate is a cost efficient material and arguably the most widely used cabinetry finish.
Pros and Cons of Two Finishes
Aesthetic Appeal: There is no denying that acrylic finishing is visually more appealing than laminates. Not only does this glossy cabinet material make your kitchen more inviting, it offers a sense of added space to the area. Laminates can be polished to appear shiny but they can never match the glossiness of acrylic. Laminate offers a subdued look, which can often be unappealing and may go unnoticed.
Colour Range: Acrylic offers a pretty decent range of colours to choose from. Acrylic does not lose its sheen for a long time. But, there is also no denying that laminate offers a wider range of colour choices. Those who do not like gloss may prefer laminate over acrylic. Laminate finishes also provide plenty of choices in textures and decorative patterns.
Durability and Maintenance: Acrylic is a highly durable material that does not lose its visual appeal for many decades. It is also scratch resistant and hence wear and tear is not a problem. The gloss and shine remains intact for a very long time. But, they do require regular cleaning because the stains and dirt marks are more prominently visible.
Laminate is also a very durable material. One big problem with laminate is that it is not scratch-resistant. Therefore they tend to lose visual appeal over time if not treated carefully. However, modern laminate finishes come with extra coating and hence can resist scratches to a good extent.
Cost: Acrylic finish is aesthetically more appealing and is also easier to maintain. This is perhaps why they are more expensive. We use Acrylic cabinetry mostly in the high-end modular kitchens. Laminates, on the other hand, are one of the cheapest cabinet materials you will find. This is one of the reasons why they are so popular.
Which One Should You Go For?
If you are not sure which material to use for cabinetry, you can consider the combination of the two. A lot of modular kitchens these days feature cabinetry finished in both the materials. Upper cabinets are not as frequently used as the lower ones and thus they are not easily stained. Therefore, Acrylic would be a good choice for upper cabinets. In most kitchens, the lighting tends to focus more on the upper area justifying your choice of Acrylic for upper portion.
Lower cabinets are more regularly used and thus they are subjected to more wear and tear and stains. Therefore, laminate material is a better choice for them.
Designs for modular kitchens depends a lot upon their space, here is a quick guide for categorization of kitchen depending upon their shape, to know more click the link