How to decor your home in traditional Indian way? What are the features of Classical Indian themed Interior design & Ethnic Indian style Interior Decoration?  Indian Décor theme relied heavily upon use of arts and crafts made from dark toned wood, metals and bold use of colors. This contains a bit of both religious and cultural traces. Here we give the idea on how we can choose for elements to give our home an Ethnic look.
How to decor your home in traditional Indian way?
Features of Classical Indian themed Interior design:


#1 Use Wood craft as Wall Hangings:
Look for traditional wooden craft items in dark wood which you can as wall hangings. Like in this pic below a set beautiful wall hanging piece of craft depicting traditional chataris in various scale and a wooden photo frame on adjoining wall instantly added a quick cultural essence to Interior. Cover any wall opening or doors and windows with wooden frame with cornices and mouldings.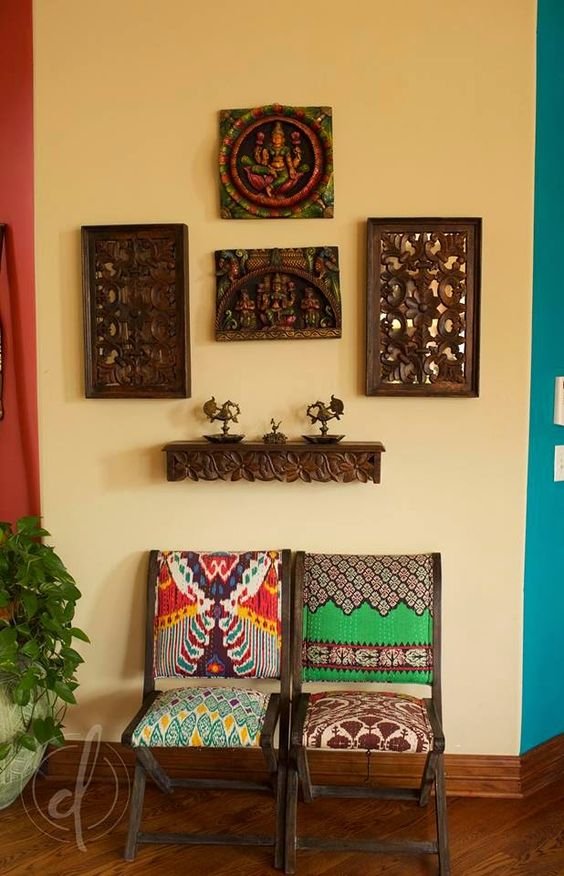 #2 Add for Metallic or Brass effect in Living Room /Galley:
Arrange for Wooden cabinets, desks and chests in crafted designs and place decorative Items of Brass like idols, statues and pots on top of that. We can also use a large sized mirror in dark wood to add same effect. Hang small bells like a temple to add for Feng Shui effects though in indigenous way.
Seek for Large sizes paintings of Gods and Goddess in wooden frame in High Glossy Rich colors and hang them in place of high visibility or centre of prominent wall.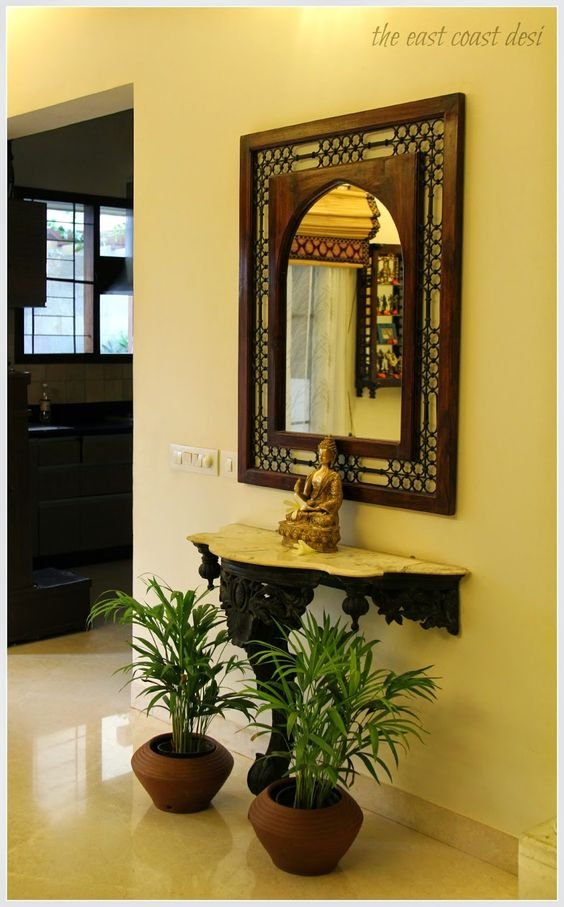 #3 Keep Traditional Looking furniture:
The chairs kept in the open space can be well designed by using regional art and craft. Ancient thread work or weaving can be used to decorate the sofa seats in house and therefore reflect a cultural touch in the house.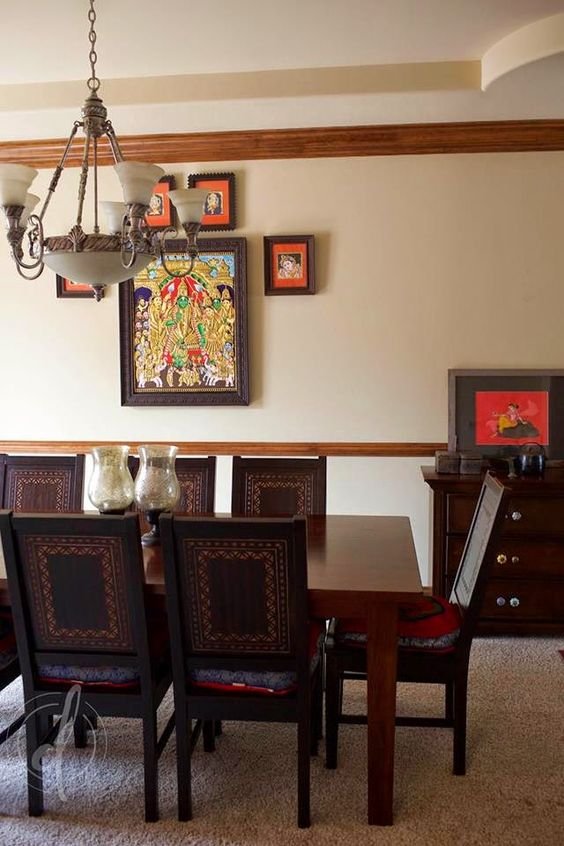 #4 A Sacred place inside Home:
Temple or small Puja room is integral part of India Homes. If possible choose for the place as per Vastu recommendation which lies in Eshaan Kona (North East corner) or any suitable place which allows for segregation as well as can provided for 4-5 peoples of sitting. Ideally the place should be away from casual approach and contain a high platform for Idols to put on. Read for more on Pooja room here- Celestial Mandir styles for contemporary Homes.
#5 Use of Traditional Ethnic Wall Art:
Painting the wall in the tribal art form like Warli Art is a fantabulous idea to decorate the wall. We can even create a nice story line or a special message in wall art form. Supplement the whole scheme with using wall hangings or earthen pots to give it ancient royal or rural look.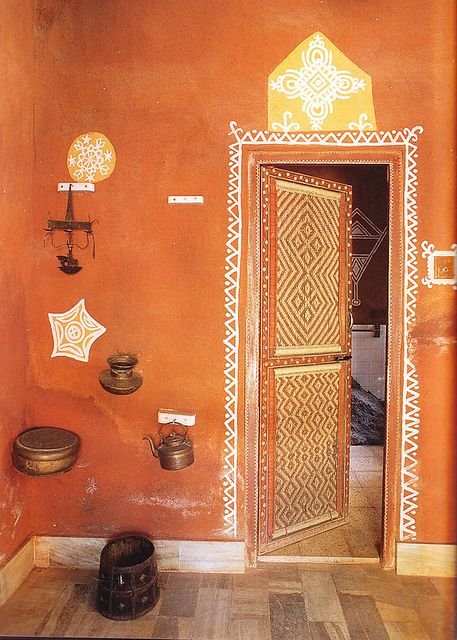 #6 Ethnic Bed sheet cushion covers and curtains:
Choose for Fabrics made of Khaadi dyed with natural coloring materials like indigo. Lovely Cushion covers which add cultural touch are in trends nowadays. Gujarati style fabric art focuses on colorful threads woven all around while Rajasthani art work use small pieces of mirrors woven alongside the boundary of cushion covers.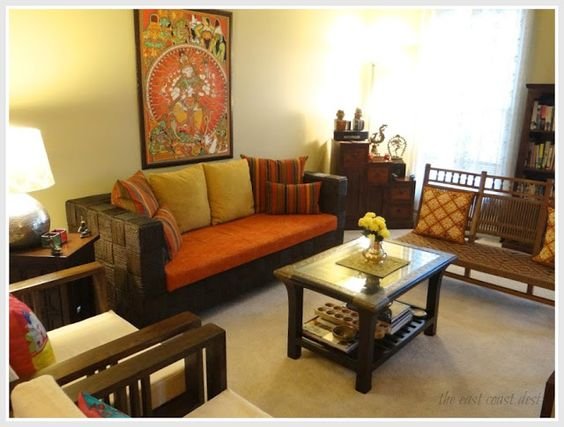 Add bedside ethnic interiors in your room:
Add for hymns, quotes, Religious sign images inscribed on wall paintings or adding religious figures holding lampshades, candle stands or in oil lamp stands in bedrooms.
Hope you have enjoyed reading this article on – How to decor your home in traditional Indian way?
We recommend you to explore more by clicking on following links-