How to style up your kids rooms or create a space which is more than just a room for your kids. There are few of amazing but simple ideas, you can implement depending upon your budget.
#1 Fancy Furniture
Add the magic to your baby's room by adding lovely little comfortable and colorful custom made furnitures for your kids room. Try adding curtains to the room which create a cartoon team or the cartoon family on the curtains.
Image Source: homeworlddesign.com
#2 Wall Zone:
The walls of the room must be full of dull sparkle or stars which partially shine at night. You can add little bedtime story characters on the walls or add little story line as wall paintings.
Image Source: www.inpicta.com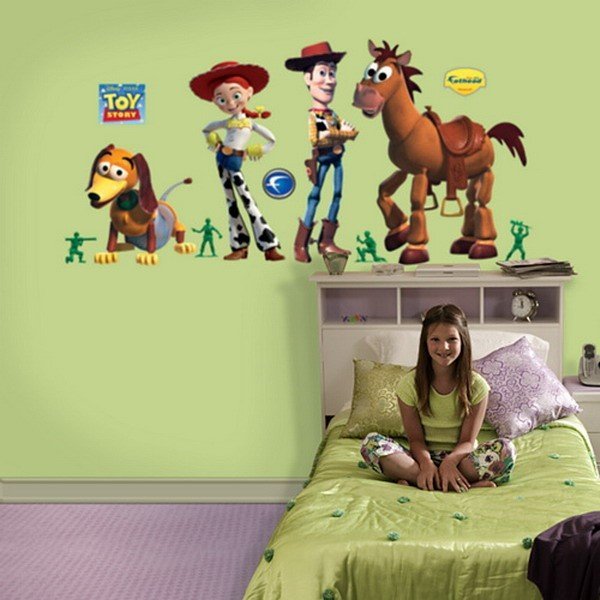 Image Source: Mamothmurals
Image Source: aliexpress
#3 Chilly Cottony Cuddling Winters 2016 for Kid's Room:
The Cotton fabric has entered the kid's beds for rash less bedding. The latest fashion is cotton with bright colorful cartoons on bedding and bed sheets. The range of cotton bedding lines are getting popular this year and coloring the kid's zone in their way.
Image Source: Aliexpress
#4 Cotton texture has ruled out the Kiddie zones:
The little ones can find Spiderman, angry birds, Kung fu panda, Mogli, Barbie Doll, Chhota Bheem, Minions all in their room starting from bed sheets to bed covers or from pillows to fancy wall hangings. Their zone is lined up with cotton to give a comfortable sleep and to print all kinds of designs.
The best part about this trend is that these sets are easily affordable and do not pinch the pockets. They artwork is really colorful and lively , at times I have seen cute little games like snake and ladder or adorable quotes printed on bedding. Such colorful collection can add beauty to your kid's room and also fill your baby's room with their favorite toon.
Image Source:Aliexpress
The cotton on kid's bed is very comfortable while the makes their room look attractive. You can match up your little ones room with matching colorful frames, cute little chairs or lamp shades.
Crazy cushions can add lovely look to the room. The lovely cushions and matching slippers and night suits can make the room look like their own Disneyland. The winter has touched cotton in the sense of making quilt covers of interesting colorful cartoon prints and fabrics. Matching bed accessories, pillow covers add further charm to the delightful room.
Image Source: Aliexpress
#5 Rug it up:
The charming rugs have created a soothing base in a kid's room nowadays. They style the room with colorful, soft and beautifully designed rigs to match the wall colors and bedding.
Image Source: yeahwebs.com
Image Source: homecaprice.com
#6 Cool Closets:
The brilliant color and design of closets at times are designed to match some cartoon characters home interiors or to build up a tiny little fort in the little ones room. This creates a whole new atmosphere to enlighten the spirits with fun and fascination and they have their own la la land ready in the room.
Image Source: homegoid.com
Image Source: www.decoist.com