Owning a walk-in closet has been a dream for many of us– it maximises our storage and helps us keep our wardrobe neatly organised. Let's accept it: we can never have enough storage room for the things we hoard over time. Planning to add storage area in your Home then How to make a perfect walk in closet? Here are expert Seven Tips to create a perfect Walk-in-Closet.
How to make a perfect walk in closet ?
And it's just not about clothes. There are other items like umbrellas, suitcases, bed linen, towels, craft supplies; they also need to be stored somewhere in the house. If your house can accommodate a walk-in closet, do not waste any time thinking about it– just get yourself one.
Not only it will keep your place clutter free, it makes your place look more elegant too. Let's look at few things that you should remember while setting up a walk-in closet in your house.
Make the most of your space:
The most excellent way to maximise space in a closet is to effectively use every corner, depth and height.
Maximise the vertical storage space: it will make your walk-in closet feel more spacious. Make sure you are using every square inch of space available in the closet. You can explore more here storage-cabinet-options-for-your-home
Include a mirror:
A full-length mirror is essential to see how your outfit or the entire look comes together. Mirrors instantly accentuate the aesthetics of the closet. You can either opt for framed or frame less mirrors as per your desire. Ensure to add mirrors in the closet wherever you can to create the illusion of a larger space.
Choose best lighting:
Lighting can change the appearance of any space drastically. Ample light will help us to see what we are about to wear, be it natural or artificial light. It's common to add lighting through a tube light or pendant light, but there are other ways to incorporate light in an innovative way.  For example, you can add LED lights in hanging rods; it also allows you to see every piece of garment hanging onto it.
Maximise your space with pull-out rods:
Pull-out rod is one of the greatest ways to get the most out of your closet because it uses as much space as possible. You can also access your items easily without taking up too much area.
Plan for enough rod length: The thumb rule is that when planning your closet, assign at least 48″ of rod length per person staying in the family.
 Add a vanity:
A vanity area on top of the drawers can bring a feminine touch to the closet. It may require you to sacrifice some drawer space but it's totally worth it. It also provides you surface to place your jewellery and perfume bottles on it.
Choose the right style and colour palette:
Your walk-in closet must gel with the existing room decor– naturally providing continuity to the decor. Although there are no rules for the usage of colour but the colours need to harmonise with the overall appearance of the room. Lighter colours are more suited for smaller spaces as they create an illusion of a larger space. Cabinetry choice mainly depends upon the user's needs and decor style. The idea is to pick the closet style that gels perfectly with the existing room decor without taking up too much space.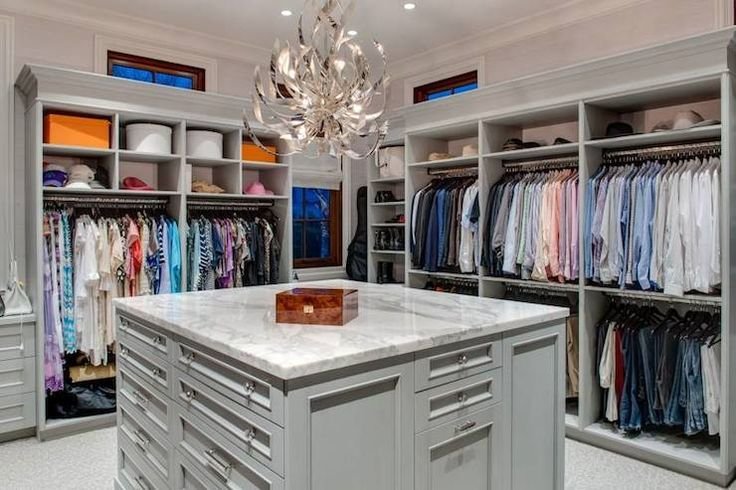 If you are planning a makeover for your kitchen and still undecided on how to plan for perfect Pantry for your kitchen, then you can find a help here cabinet-pantries-or-walk-in-pantries-how-to-make-a-choice .There is another article on  how-to-keep-closet-clean-and-organised