This is an open secret that, In the beauty industry looks is the most important aspect. When a client walks into the salon or spa, He or she automatically focus first upon its interiors. A beautiful SPA interior will tend to create a lasting impression. Every aspect of the designing should reflect beauty and style. This is essential to retain the client which is very important for the success of its business. Though good spa interior designers always tend to focus upon complete functionality, well organized spaces and comprehensive interior solutions rather than just caring about aesthetics. So How to design a Good Functional SPA Interior?
In this post, lets discuss about functional aspect of SPA Interiors in short.
Locker/ change Rooms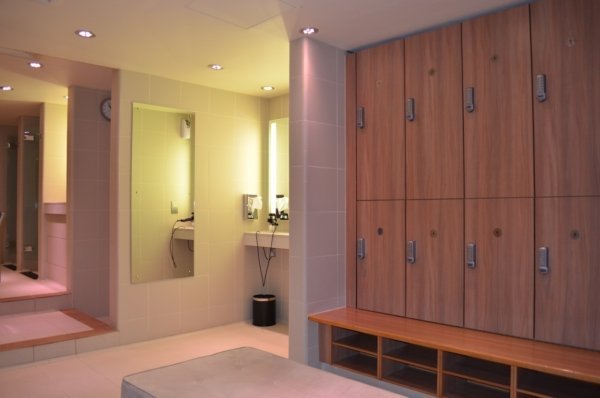 Before entering to SPA treatment room, one need to change cloths and put their belongings to Locker room. Ideally there should be separate Men and women Change rooms.
Spa Treatment Rooms
SPA treatment is a functional core of SPA centre. So How to functionally design a SPA treatment room?
Wet Treatment Rooms: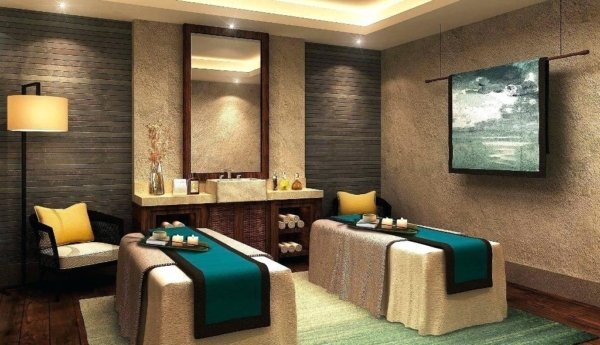 A wet area treatment room should feed off of each wet area. Access to these treatment areas should be from both the men's and women's locker rooms through a hallway.
The area should include:
Treatment tables.
Sink.
Counter space.
Clean and soiled linen storage.
Floor drain.
Overhead showers or treatment shower.
Infra-red heat lamps recessed into ceiling over each table.
 Dry Treatment Rooms:
As a designer point of view, this is highly advisable to design treatment areas as flexible as possible. This will allow to change the setup of room as change of programme or way of treatment as per changing techniques.
Take care to provide for sinks, lockable storage cabinetry, counters with mirrors, clothing hooks on back of door, separate clean & soiled linen storage, electrical outlets on side walls and above counter.
All treatment rooms should be as sound proof as possible.
Provide for separate music system with individual controls.
Provide for clothing hooks near Beds.
"In Use" signage on all treatment room doors.
Provide for lockable storage in each room.
Provide for numbers or letters on doors of each room for identification.
Floor surface should be of easily cleanable material like Vinyl floors.
Balance of nature and man-made elements
Focus on healing environment
Lighting in SPA treatment rooms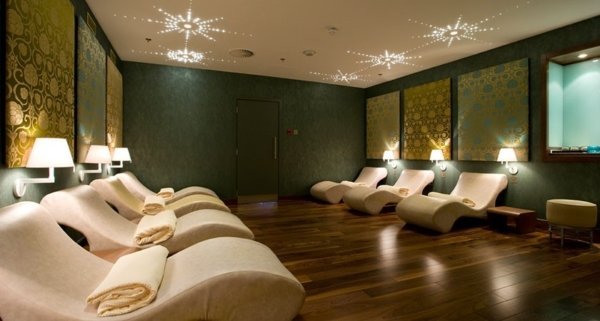 Lighting design play crucial part in SPA treatment room interiors. Lights should never fall directly over facial lounge, otherwise that will cause unwanted glare and dizziness to visitors. Focus is always upon creating a soothing relaxing environment. Treatment rooms often doesn't require day lights because it give us flexibility to control lighting as per task suitability. We also need to provide task lighting over counter surfaces.
Tip: provide separate overhead lighting for waxing, on separate switch. room does not require daylight.
Choice of Materials in Spa treatment rooms
There are no hard rules for selection of materials in SPA treatments rooms. We should prefer to use Non-corrosive materials in all high moisture areas like Vents, ducts, drains, ceiling & wall covers. Easy to clean moisture resistant materials should be used in all high moisture areas. Additionally, consider using local materials and focus upon integrating cultural and artistic traditions.
Hope it helps. see for more about SPA interior here