Pooja Space is that corner in our homes where we seek peace and pray to our Gods. In this time of increasing interior decor trends, we strive to decorate each corner of our house in a trendy way, so how can we forget the spiritual corner of the house? Pooja rooms/corners are an indispensable part of most Indian homes. Colors can play a major role in transforming the look of your pooja corner.  Here we bring you some trendy and elegant color ideas to make your place of worship look divine. So How to choose colors for pooja room in Indian homes? Here are few Enchanting color ideas for pooja room.
Enchanting color ideas for pooja room
Wonderful White
White color will never fail you, it's like a best friend–dependable. Give your Pooja corner a beautiful makeover with pristine white color. This color is perfect for almost every setting; it makes everything placed in front of it pop-up. The versatile color gels with every kind of alter design and color. Keep in mind that while working with white, make sure that you pick easy to clean and maintain materials like laminate, granite, etc.
Captivating Cerulean
The cerulean or sky-blue color is an unusual and offbeat color for a Pooja corner; therefore it creates a style statement immediately. The cerulean color is known to have a fresh and calming effect. Its unique hue can make anyone awestruck. This unique hue adds dimension to a pooja space and will draw people's attention towards the meticulously curated place of worship.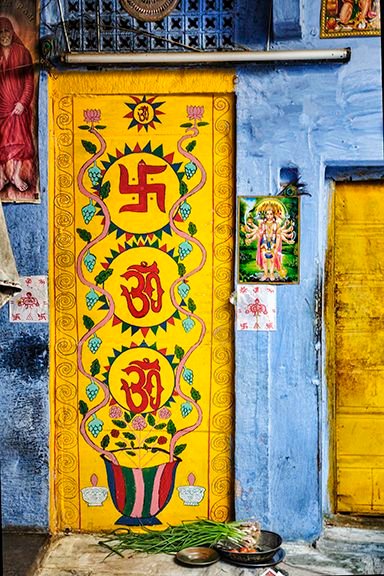 Mesmerizing Mustard Yellow
Love yellow, but don't prefer bright colors? No problem, a mustard yellow is a great option for you. Flashy hues of yellow are outdated and subtle hues like mustard yellow is the latest trend. Mustard yellow works very well with contemporary decor as well, as long as the other colors and furnishings blend well. This color will surely make your holy corner look warm and sacred like no other.
Radiant Red
The red color is considered auspicious and is related to divinity. Painting your all your Pooja room walls with red could be overwhelming for many, so to avoid that, you could use combinations of red and other subtle colors. This way, your pooja room will have a special zing without looking too loud.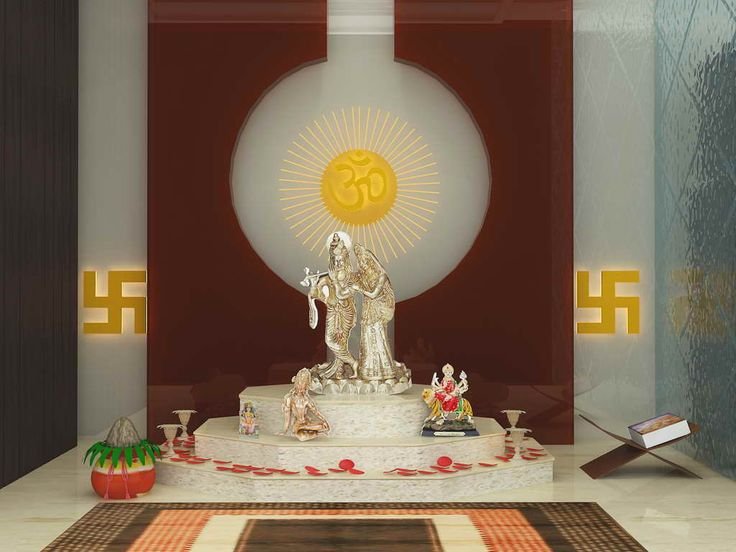 Go Green
Green is considered to be the most soothing color for the eye. Blending the exuberance of yellow and the refreshing quality of blue, green color is perfect for a pooja corner. This color is known to create a calming effect when it is used as the primary color. It is believed that this color brings peace and relieves stress by helping the mind relax, making it a great choice for the pooja room.
Vibrant Vermilion
This vibrant color can make your pooja corner come alive. Orange evokes excitement and enthusiasm and is an energetic color. When used on the walls of your pooja room, it can brighten up the entire space. In ancient cultures, orange was believed to increase energy levels.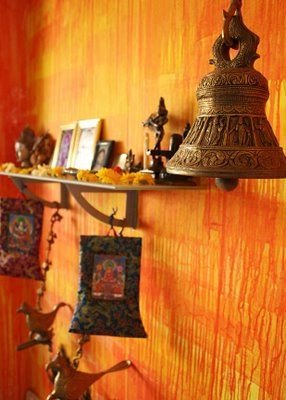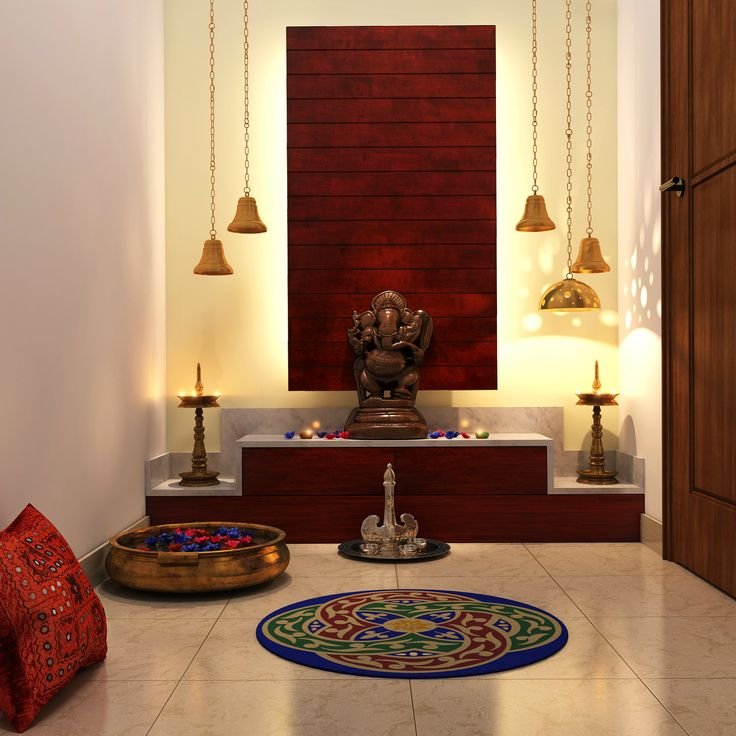 Tantalizing Two-color drama
There's is no rule that the Pooja rooms or corners can have just one color. So why not explore more! The two-colour idea works best where the Pooja space is created in between two walls. Choosing the right color combination can brighten up the walls of your pooja corner. Most classic color combos are often those that borrowed from the Mother Nature.
Colors can influence our moods and our thoughts. So, choosing the right color for your Pooja corner is a crucial task. These above ideas are can help you create a pooja corner that will stand out in style. Keep in mind that color choice is a very personal matter, so choose a hue you love and create a decor statement of your own.
Hope you found this Article on Enchanting color ideas for pooja room useful, You can further explore one more article on Pooja room designs and styles-
Looking for some ideas traditional Indian Decor trends, then you should not miss this –
There are few more external links- you may want to explore