Lucky are those kids who need to share their bedroom with their siblings. How to create a bedroom where kids can share their space and stuffs yet maintaining their private spaces. Having to make your kids share their bedroom is either a choice or a necessity. Designing a shared Bedroom for growing up kids is always a challenging task for parents. Few tips on How to make sharing bedroom a fun for siblings?
In any case, we can be little more creative. So that your kids don't find sharing the bedroom a burden or have a lot more fun with their siblings. It obviously will work wonders and will make the relationship between the siblings more tender.
How to make sharing bedroom a fun for siblings?
A room not just for the new baby:
You might already have a room for your elder kid, and as the time for the new baby's arrival are in the cards, you are now thinking to share that room. Well, it's an interesting thing to think about. The more you plan, the better the room gets.
Keep the baby crib on the other side of the room, where you will also get some space to spend time with the baby or to feed the baby. Place the bed beside the wall so that it acts like a reading nook as well, without wasting any space. Do not forget to attach a lower shelf where you can place the toys and the books and your toddler find it easier to take all those stuffs without having to call you often.
Fill the room with lots of toys, probably your kid's favourite ones. And lastly, make the room colourful so that both your toddler and the baby have fun throughout the day.
Shared Bedroom design idea– for loving sisters: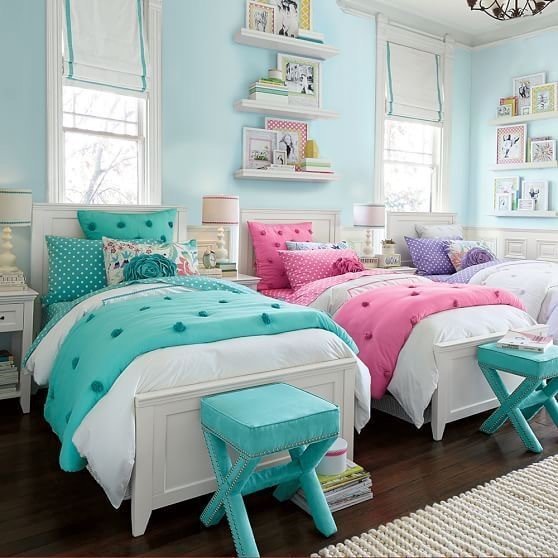 However, it's lots of fun and quite interesting too. To make it as their favourite room, let them decide the colour of their beds. Don't make them share one big bed. Your option must either be a bunk bed or this kind of separate beds.
Designing a bedroom for the girls is just love, love and love. They are the princess of our homes and we don' want to treat them any lesser.
Give a place of wall to every one of them (separately), build a shelf in it and let them keep all their favourite stuffs on them. Give each one of them a separate table lamp as well. This will also make them more responsible, organized and the room less messy.
Kid's room: Work and play, play and work
Don't design a room which looks like "just a room". Incorporate as many things which your kids will kind of love and would love to stay back home.
For this purpose, a colourful working table along with a sufficient and a beautiful chalk board will do the work it needs.
Keep a stock of colourful chalks in hand, full their boxes with enough paints and crayons and let the artists in your kid grow and nurture more creatively.
Girl's shared bedroom design idea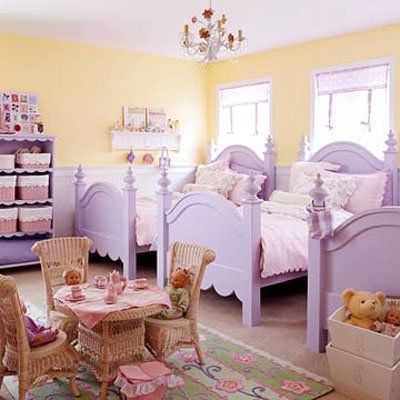 In addition, fanciful pillows and the table set are making the room extraordinarily appealing. Also look at those baskets on the shelves. It is literally a delight to the eyes.There is another girly bedroom idea. It is almost a perfect room for the girl trio of your home. It has all the unique looks and accessories which any princess would surely nod their head for. A quick colour suggestion, a shade of both pink and purple.
Shared Bedroom for growing up kids:
When growing up boys no longer interested in those toys and pretty accessories and football themed rooms, these kinds of rooms are what they want.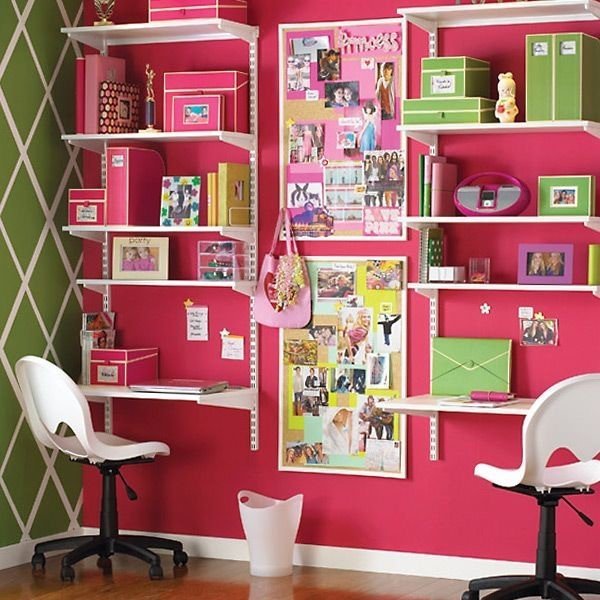 The shades of black as everyone know is always magical and this is what is making the room more subtle and decent. A gentleman's room, you can call this.
The light coloured walls and the Color of the floors are a perfect combination for those black curtains. Keep with them any play thing which they are interested in, like in the image guitar placed by the side the bed.
Shared Bedroom Interiors: A bit of privacy is always right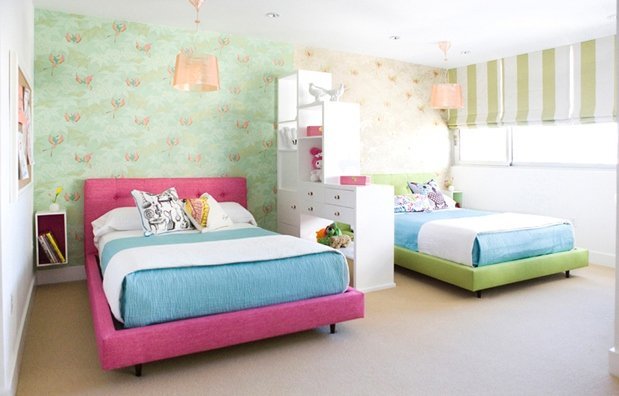 So, give them the space to select their favourite colours and let them decide the decorating stuffs and accessories for their side of the room.Growing up kids, also often expect little privacy from their siblings. To overcome this hurdle, we can try this kind of room sharing idea as shown in above image, rather than totally shifting one of them to another room. By this way, we can give them their own private space within one room. They can decorate it in their own way
Siblings shared Bedroom: Creativity in the working spot
Concentrating only in the bedding is generally not always enough. Working area also needs separation and the same level of concentration. You can give them their space, with different working spots. Separate the chairs and their shelves and let them arrange it as the way they wish.These are some of the ways by which you can make your kid's sharing bedroom more interesting.
Follow few more Internal related links for more read
Few External Links