Looking to give a trendy makeover to your kitchen with a sleek, elegant sink and countertop? latest Kitchen Trend-One Piece Kitchen Countertop and Sink offer for modern contemporary look, integrated design and easy cleaning and maintenance. This (also known as integrated countertop and sink) might just be something that you will love. The best way to pull off that lustrous yet minimalist look is to opt for integrated countertops and sink which can add unique characteristics to your contemporary kitchen design. In integrated countertops, both the kitchen sink and the countertop are made from the same material, offering a clean, seamless look.
latest Kitchen Trend-One Piece Kitchen Countertop and Sink
Integrated kitchen sinks or seamless sinks are great for various reasons. They create a trendy and smooth look, making cleaning the counters a much easier task. Additionally, they prevent the accumulation of scum or dirt in and around your sink.
They are also available in a range of materials, including Corian, stainless steel, concrete, etc, enabling them to suit any type of kitchen design. Here's how you can achieve the integrated countertop and sink look:
Integrated look with same material
The trick of creating a sense of a flawless kitchen countertop is as easy as it sounds with integrated sinks. They add a sleek, minimalistic and aesthetic appeal to the kitchen. In such cases, it is best to pick any durable material like Corian to manufacture both the countertop and sink. Though, this could be slightly more complex to install. It demands high maintenance and any sort of cracks or defects will require you to change the entire kitchen countertop.
Integrated look with different material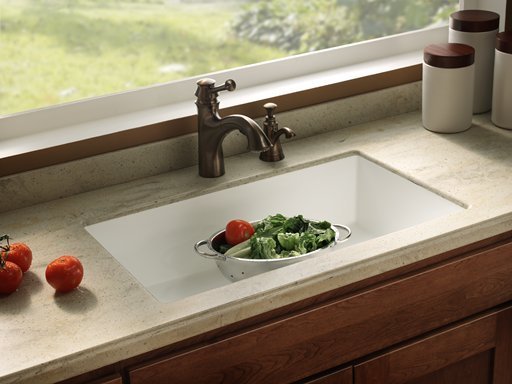 In order to make the sink and the countertop look seamless, you can match the color of them both. Opt for durable materials such as natural stones (like granite) or engineered stones (like Corian). If find yourself more attracted to composite quartz sink, you can choose to pair it with a composite granite countertop in the same color to create an illusion of integrated look.
Corian countertops can offer the best results, as they are available in a range color variants and natural textures.
Benefits of Integrated Kitchen Sink
Luxurious Feel and Aesthetic Appeal
Owing it to the uniformity of color and material, the one-piece kitchen countertop and sink offers a certain minimalist appeal and elegance.  Integrated sinks offer the desired result when paired with a stylish spout and a complementary kitchen backsplash.
Quick and easy to clean
When it comes to maintenance, one piece kitchen countertops and sinks are unquestionably easier to clean. Due to their seamless edges, dirt or dust does not accumulate easily in and around the sink. It demands extremely low maintenance, making it best suitable for busy working professionals with little time.
Cost and maintenance
Before you decide to go for a one piece kitchen countertop and sink, it is important to consider the expenditure and the long-term maintenance of it. Premium materials like Corian, quartz, stainless steel and ceramics are best suited for integrated sinks. Given their sophisticated appearance, they are also comparatively more expensive than other materials. Moreover, Corian and quartz will normally require extra support legs or ledge walls under the countertop during the installation process.
The one piece kitchen sink and countertops are easy to clean and maintain while simultaneously lending a minimalistic yet contemporary look to the kitchen. Integrated sinks aren't just for big kitchens; mini kitchens can also include one piece sink and countertop, making spills easier to clean up.
Read more for Kitchen counter tops & sinks in following links