From the past few years, a kitchen has become a central part of a house where the whole family gathers, eats and various household chores take place. As it has become so important, it should be designed keeping all factors in mind especially space and storage. Even if you know exactly what your kitchen must look like, building space is quite a feat. How to optimize your Kitchen to maximize its space efficiency? Here are few simple kitchen ideas to transform the entire look of your kitchen.
How many cabinets will you need? How much storage options you can install without compromising with current space? What do you need to store in those cabinets and drawers? Whether you are up for remodeling or just reorganizing? All of these questions need to be asked before hammering a nail. Some of the smartest kitchen storage ideas are listed below:
Include some WALL STORAGE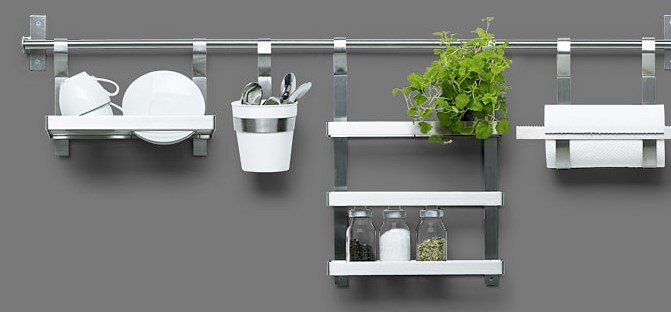 So, why not keep things a little handy. Hanging all your knives, laddles, serves, sieves and many more objects of great utility in a row, not only de-clutters your space but also save on time as all you need is arrange in a very handy manner.
Kitchens – the core of every household –so far have been quite the rage and we all want to make it look and function the best. This the most used portion of the house and most cluttered as well. Kitchen has to have a nice and encouraging ambiance so that the person cooking can be fully comfortable when it comes to preparing the meals for the families or for their housemates. Indian household is often filled with guests, therefore lots of kitchen dishes are required. To store them, the kitchen space does require great storage so you have to install the best kitchen wall units that can suit your needs for storage.
Assess the things that you have to store in your wall units so you can determine the right size that can suit your needs. Arrange all your knives, dishes, sieves, etc properly– it will not only de-clutter your kitchen but also save your time finding for different utilities.
Enhance the Appeal of Your Kitchen with OPEN SHELVES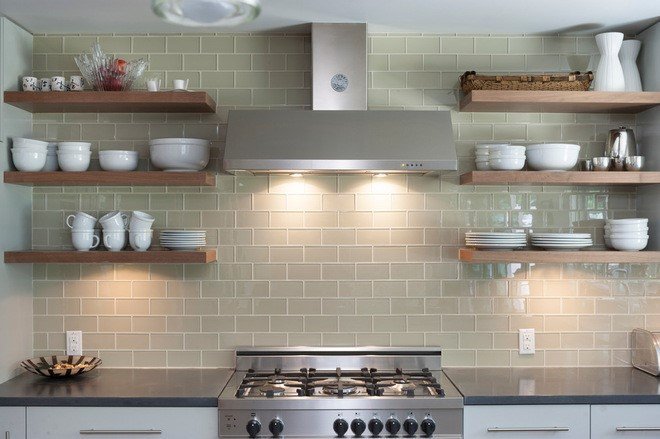 Open shelving has been popular in residential homes for some time now. This makes sense for a kitchen that gets a lot of use. Whatever home style tickles your fancy, kitchen shelving can complete the decoration and finish of your kitchen area. Decorating your kitchen shelf will require you to specifically pinpoint the kind of style you want to achieve.
Adding accessories can enhance the look of your kitchen shelving. If your shelves are open, you can display unique storage containers to help organize objects while keeping their aesthetic purposes. Finally, you can add lighting to highlight a collection of valuable dishware and kitchen accessories.
The elegant blend of beautiful vases at one side and a wicker fruit container on the other, a wine-bottle holder kept on the top of the slab, collectibles and books kept under the slab and ceramic-ware arranged skilfully on the open shelves at a height. This combination of open shelves breaks the monotony of the closed kitchen shelves in this kitchen.
With under cabinet Lighting, the open shelves with a metallic finish lights up the kitchen adequately wherein the colorful juices are organized at the front, a couple of wine holder and croissants at the back to acquire a considerable measure of joy and hunger to this space.
Open shelves are placed strategically to break the monotony of closed-cabinets, additionally; you can arrange your daily use bowls and jars on them to keep them accessible and handy.
Wooden and steel open shelves right above the Kitchen counter enables you to store everyday dishware, cups, servers, ladles, etc within your easy reach.
An open wooden shelf pair offers sufficient space to keep your finest kitchenware that you might wish to flaunt. Arranging your expensive cup & saucers, sugar bowls and jars can create an appealing and functional setting.
Maroon-red, vertical shelves on either side of the cooktop provide sufficient altitude and space to keep big vases, collectibles, and urns, creating an exquisite shading contrast.
A cottage-style blend of urns, utensils, and pots kept at an all open space with additional space to keep the enormous utensils and organize the little stuff in the basket, keeping everything clean while also being handy.
Go for clutter-free shelving, it goes well with both large and small kitchens.
Open shelves are great to keep the kitchen organized without compromising on the aesthetics.
Open shelves add a remarkable appeal along with the well-designed cabinets. Intended to be the focal point of this kitchen, this shelves look stylish yet are functional.
Keep your open shelves easy-to-clean, they are wonderful to show off your expensive decor pieces and to also keep your kitchen tools accessible.
Decorate your KITCHEN with Sleek STORAGE Spaces
Your kitchen cupboards should focus on making work easier and your life hassle-free. Kitchen cupboards of today's lifestyle provide storage that's both visually appealing and well-engineered that's aimed at maximizing space and less effort when working. That is why designer kitchens are also gaining popularity because a lot of homeowners today are looking for integrated kitchen fixtures and appliances as well as customized storage areas that suits their family's needs and lifestyle.
Custom Built-ins: Are you feeling a little disorganized or needing more storage? Built-ins are a great way to organize and hide messy items. Custom built-in cabinets are in style these days. They are durable and highly functional in nature.
Roll-Out Drawers: Adding quality storage can greatly improve the value of your kitchen. A rolling cart is a great addition to the Kitchen. They make your kitchen look visibly appealing while giving you a lot of space to store and organize your kitchen goods.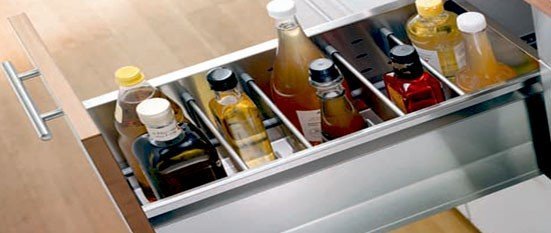 Cabinet underneath the Sink: Adding a cabinet below you will enable you to store your cleaning supplies and also hide the plumbing accessories. You will also be able to keep a gas cylinder there if required.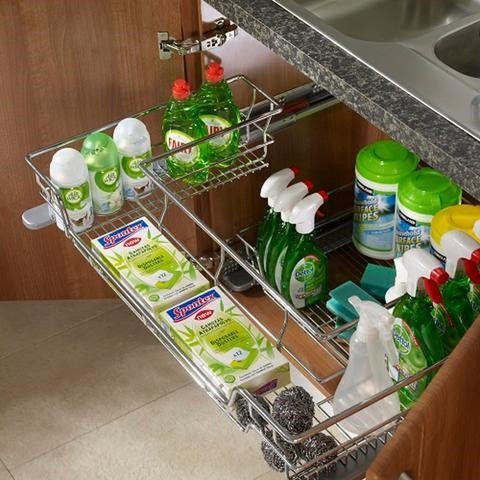 Customized Corner Storage: Corners of the counters are critical in terms of space. If you use it wisely, it can be a boon to your small kitchen. This space is greatly responsible for the organization. To boost everyday productivity and functionality, maximize storage with corner kitchen cabinets.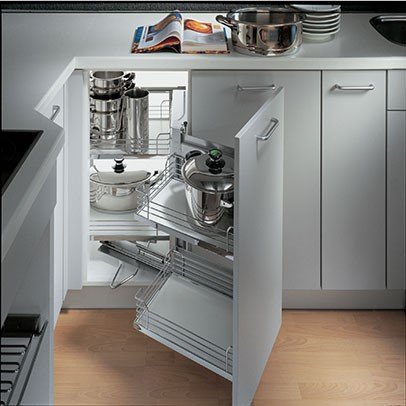 Space for Servers & Knives: Adding knife blocks and hangers for will maximize the space of your kitchen. Apart from organizing your space better, it also makes your kitchen tools much more accessible and easy-to-use.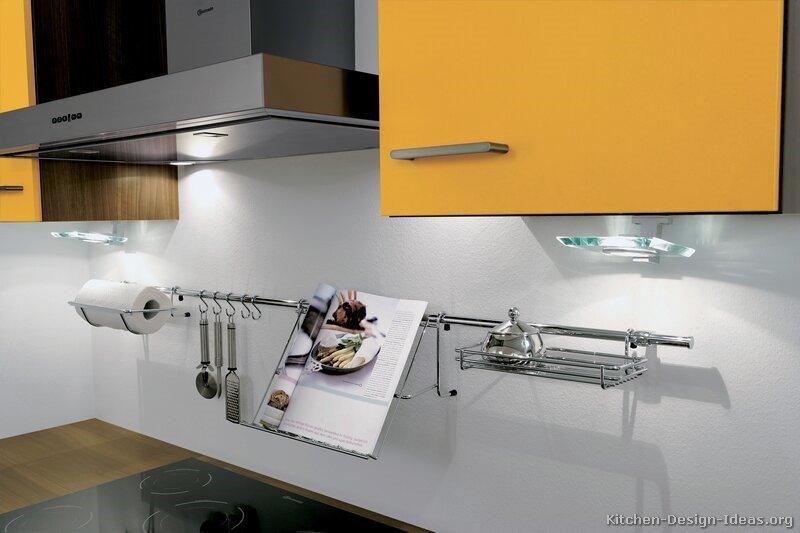 Hide Trash Can: The kitchen is the busiest rooms in the home. This is the place where we make our meals and entertain guests. The trash can is one of our least favorite things in the kitchen. Hiding the trash can will help to keep it out of sight and mind and will stop the smells that come from it. One of the greatest places to set it is in cabinets.
Pull-out versus Drawers: Often overlooked, but extremely important is the accessibility of your items and the functional purpose the cabinet is to serve. In case of a drawer, the space at the back cannot be used effectively, whereas you can easily draw the pull-outs and easily access it fully.

Fasten Utensil Hangers on the Wall: In Indian households, storing large pots and pans in drawers is not possible. Built-in storage is often limited by the floor plan of your home. Hang your large utensils on the walls and maximize your kitchen space.
Leave Space under the Island: If you are short on space and you do not want to eliminate island kitchen space, make sure you leave sufficient space under the island so that you can push the stools or high-chairs under it when not in use.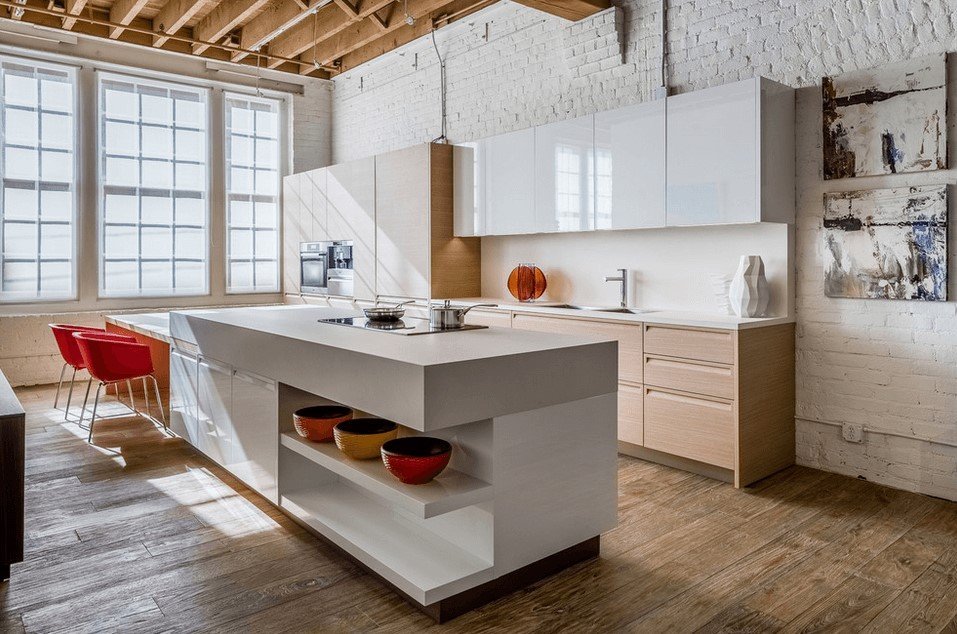 Stylish Faucets: Stylish faucets add to the ambiance of your kitchen. There is a wide range for you to choose from, so ensure that you choose the most suitable wall kitchen faucet that fits perfectly with your kitchen.
Recess storage space: It does its job without hindering the kitchen's actual flow. It is a boon for kitchens with less space.
Backsplash: the backsplash in the kitchen has indeed come a long way since the time it was considered only a functional part of the workspace. Today, it is the perfect embodiment of function and fashion. It may cover a small area, but when it comes to your kitchen's aesthetic appeal, there's no denying the fact that it occupies centre stage.
By careful planning, you can effortlessly make your kitchen spacious, convenient and enjoyable to use. You can actually select from numerous styles and designs of smart pieces of kitchen furniture to help make your kitchen more organized and clutter-free.
De-clutter Your Kitchen Counters and ORGANIZE BETTER
The kitchen can be a real clutter magnet because it is the hub of the household for most modern families. With so many activities going on in one space (cooking, cleaning, serving), it is essential to set up the right organizational systems. Suitably designed Kitchen space can certainly make our lives a tad simpler. Here are some ideas to help you select the right counter for your kitchen and organize it better.
If re-arranging the design isn't feasible, then go for most doable alternatives. One can have U- shaped, L-shaped or straight-line kitchen countertops.
The working triangle will enable you to choose the shape that best suits your necessities. The path you cover while getting to three primary stations of your kitchen i.e., the cooktop, the Refrigerator, and the sink.
When you have 2 walls in the kitchen, it is best to have an L shape counter. However, U-shape counter is ideal if the kitchen is sufficiently large and is encompassed by walls on three sides.
Increase the counter space by adding an island counter. However, it is important to keep the width of the movement area adequate.
To impress your guests, exhibit only the beautiful stuff in the cupboards over the counter. Conceal the clutters in closed-cabinets under the counter. It makes the kitchen counter to look less messy.
When it comes to the open kitchen, keep a small counter space for breakfast area. Add stools or high-chairs of your choice.
Use hangers and stands on the back side of the cabinets to store the cooking tools efficiently.
Use bottle racks, trays to arrange things to be kept over the counter.
It's great to have a natural source of light in your kitchen. Additionally, you can fix LED's under the cabinets to illuminate the counter space. This will enable you to utilize it efficiently at night as well.
In order to save the counter space, mount your microwave on the kitchen wall. It will make the kitchen look much cleaner and tidier.
To occupy every space whether it is beside a refrigerator or below the counter, adding a drawer or a small cabinet can contribute in giving more space to store. Opt for a kitchen cabinet design which suits your requirements and storage needs.
No kitchen can look modern and stylish unless it has got fitted cabinets of quality. So, get experts on board for amazing kitchen cabinet interior finishes and transform the visual appeal of the interior.
Read for more regarding Kitchen Ideas here